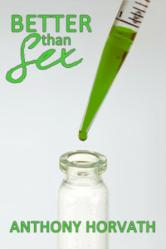 Holmen, WI (PRWEB) December 06, 2012
Bard and Book Publishing announces a new release by Anthony Horvath entitled "Better Than Sex". Horvath's new work looks at a pair of scientists who perform a simple experiment and make not one, but two, earth-shattering discoveries that will transform society as they know it...or will it? With fame and fortune and the future progress of mankind on the line, the scientists have to piece together the ethical way to proceed. They have literally discovered something that is better than sex, but it turns out to be much more than they bargained for.
"This short story began with one thought: does human pleasure override every other consideration? Most people would instantly answer that with a resounding "No!" However, there seems to be an exception when it comes to human sexuality," says Horvath. "Any talk of limits, or sets of boundaries, cries of moral tyranny and 'imposing one's views on someone else.' This story takes a different angle, putting the question into an entirely different framework that may cause someone to approach the subject differently," the author adds.
"Better Than Sex" is available for download on Kindle and Bard and Book community members can download for free with a coupon from Smashwords.
About Anthony Horvath:
Anthony Horvath is a prolific writer who can think of nothing better in life then to sit at a computer and create worlds- with coffee near at hand. A father of four, he manages a Christian ministry and tends to his special-needs daughter. Topics of interest are diverse and often surface in both his short stories and novels.
Horvath has authored several other short stories including: "Tastes Like Chicken", "In Search of Schrödinger's Cat", "Bubblegum and Suckers: A Children's Book for Adults ", "The Knight in Black Tuxedo" and several others. He is also the author of the Birth Pangs series. Book 3 of the 7 book series is due out in 2013.