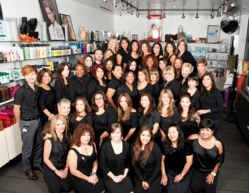 Rockville, MD (PRWEB) December 07, 2012
When Cindy Feldman opened Progressions in 1984, she set out to serve her community, guests, and team with excellence. Progressions' service, business savvy, and staff education efforts recently won them distinction among Salon Today's "Top 200" Salons.
Each year, Salon Today recognizes the best and the brightest in the business. The publication lauds salons whose systems streamline operations; measure and reward good management practices; ensure a consistent guest experience; create challenging opportunities for staff; and ensure profitability at the end of the day.
"We're thrilled to be one of the fastest growing salons in North America," Feldman said. "We're a small business that's always dreamed big. We're constantly evolving, and it's an honor to be seen as an industry leader."
Today, the 9,000 square-foot salon, spa, and retail store showcases the talents of 45 world-class professionals. Celebrated for their commitment to guest satisfaction, Progressions promotes total well-being. Beyond hair, nail, and skin services and retail offerings, oncology-friendly skincare treatments and complimentary makeup touch-ups help guests feel radiant.
As a Salon Today 200 honoree, Progressions will attend the 2013 Serious Business conference, which highlights trend leaders in the beauty industry. To learn more about Progressions, visit their website.
About Progressions
In 1984, founder Cindy Feldman and her team aspired to create a progressive space where growth of guest and service provider went hand in hand. Today, Progressions has evolved into a retreat where excellence in service is everything to the team. One of the leading salons in the Washington area for nearly three decades, Progressions has built its reputation on an unwavering commitment to customer satisfaction. To learn more, visit: http://www.progressions.com.