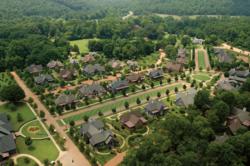 "Barnsley Gardens Resort is unique in the fact that it offers visitors access to its private, on-site hunting preserve as well as to its world-class luxury amenities and accommodations." said Michael Gordon, General Manager of Barnsley Gardens Resort.
Adairsville, GA (PRWEB) December 11, 2012
As quail and pheasant season gets underway, award-winning Barnsley Gardens Resort in Georgia has been named one of the "top 10 most luxurious hunting lodges on the planet" in a FOXNews.com feature. The Georgia resort offers a wide range of sporting options with its on-site hunting preserve, Springbank Plantation. The 2,200-acre preserve features guided and horse-mounted hunts, a 12-station clay shooting course, membership options, and the only Caesar Guerini-sponsored Wings and Clay School in the United States. In addition to Springbank Plantation, the full-service resort boasts a world-class spa and golf course and additional recreational choices such as horseback riding, tennis, paintball, kayaking, 12 miles of hiking trails and more.
"Barnsley Gardens Resort is unique in the fact that it offers visitors access to its private, on-site hunting preserve as well as to its world-class luxury amenities and accommodations," said Michael Gordon, General Manager of Barnsley Gardens Resort. "The resort provides hunters with so much more than is typical at most traditional Southern hunting plantations."
For guests looking for the thrill of the hunt, Barnsley Gardens Resort's Springbank Plantation is the perfect setting for quail hunting in Georgia, as well as pheasant, turkey and deer treks. Taken by Jeep to the plantation, visitors are guided on half- or full-day, seasonal excursions. Quail and pheasant hunts are led from October to March, and turkey hunts are led from March to May. Both morning and afternoon hunts are offered and include bird dogs, expert guides, plantation vehicle, shotgun safety, hunting license, bird limit, cleaning and packaging. Guests who are feeling more adventurous will also have the option to participate in horse-mounted hunts. The courses are comprised of nine large areas that include rolling hills and flat lands planted with grasses that provide an excellent quail habitat. Adding an extra layer of challenge for participants are the tall Georgia plantation pines that provide an element of surprise as the hunting dogs flush the wild birds into the air. Rates vary and depend upon the target species. Quail half-day hunts start at $375 and include guides, dogs, 10 birds, transportation and license; pheasant half-day rates begin at $299 and include birds, a light meal, and dog handlers with retrievers; and turkey half-day hunts are $550 and include a guide and vehicle. Corporate packages are also available.
For visitors seeking to ignite a sense of Western adventure, the challenging clay shooting course provides thrills for all levels, from novice to seasoned shooters. The sporting clay course features 12 stations with a diverse layout of shots ranging from an open field to the forest as well as over reclaimed bauxite mine ponds. In addition to the sporting clays course, the shooting area also features a covered five-stand layout that allows participation in all weather conditions. Participants can book private instruction or partake in the one- or two-day Caesar Guerini Wings & Clays Schools. Gun enthusiasts can also enjoy discounted rates with private gun club membership packages.
Partnering with Caesar Guerini, a leading manufacturer of Italian made over and under shotguns, Barnsley Gardens Resort offers a world class shooting school that caters to the guest's needs. From a first-timer to the experienced hunter or target enthusiast, the exclusive program offers training with NSCA (National Sporting Clays Association) certified instructors who tailor their teaching style to each student. This exclusive school is led by Smith, one of only a few Level III certified instructors in the United States, who brings unparalleled experience and technique to his classes. Sporting clay rates are $60 for 100 targets. Private shooting instruction is $135 per hour and includes gun rental. The one-day shooting school is $475 and the two-day is $950, with rates including equipment, guns, ammunition, lunch and eye/ear protection.
Designed in the style of an English country village, Barnsley Gardens Resort is situated on 3,300 acres just north of Atlanta with upscale accommodation choices from guest rooms to suites and even multi-room cottages featuring living rooms for groups. Gourmet dining options include two restaurants and a Beer Garden that is open during warmer months. Springbank Plantation customers receive $100 off standard rates for rooms and suites.
To learn more about Barnsley Gardens Resort, Springbank Plantation or to make a reservation, please call 877-773-2447 or visit http://www.barnsleyresort.com. To schedule a sporting time, please call 770-773-7480.
In the foothills of the Blue Ridge Mountains just 60 miles north of Atlanta, Barnsley Gardens Resort welcomes guests into a storybook romantic setting of incomparable service. Encompassing 3,300 acres, the historic Barnsley Gardens offers a unique getaway experience. Originally built as an opulent estate in the 19th century, the grounds have been transformed into a world-class resort. All guests are lodged in private rooms, suites or cottages, all luxuriously appointed with a mix of old-world charm and modern convenience. Whether looking for a relaxing weekend, strategic meeting or an elegant wedding, guests will discover a retreat of privacy and perfection. Amenities include gourmet dining, immaculate gardens, historic ruins, a European-style spa, and exciting recreational choices such as world-class golf, wingshooting and hunting at Springbank Plantation – Georgia's most unique hunting preserve, and horseback riding along scenic trails.http://www.barnsleyresort.com.