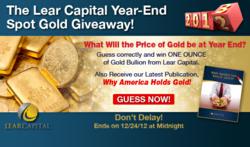 Santa Monica, Ca (PRWEB) December 06, 2012
Fresh off the heels of their Presidential Gold Poll where they awarded $2,012 worth of gold bullion for the closest guess of the popular vote in the recent Presidential Election, Lear Capital (http://www.learcapital.com) has come up with another way to give out gold in 2012: The Year-End Spot Gold Giveaway. Lear will award an ounce of gold to the closest guess to the final closing price of gold at the end of 2012.
Lear Capital is helping America secure its investments! In a year of fiscal crisis, political bickering, economic uncertainty, global volatility, collapsing currencies and shrinking stocks … gold has emerged as a safe haven for many. It is a pure asset with a history of stability, security and liquidity. In today's investment market, gold has proven to be an effective hedge against debt, inflation, war, and decline.
The Facts about Gold:

Gold has increased 400% over the past decade
Foreign governments are buying up gold at record rates
Gold provides a critical hedge against inflation
Gold provides protection against volatile world markets
Gold is real money that has never been worth zero
The Facts about Silver:
Silver has outperformed the Dow by 86% in the past decade
Demand for silver is soaring due to industrial use
In 60 years we have consumed 5,000 years of silver
Since it is more affordable, silver is called the "Practical Precious Metal"
Silver is easy to buy or sell anywhere in the world
Experts recommend that investors hold between 10% and 20% of their portfolio in physical gold or silver, and consumers can diversify their assets into different types of gold and silver coins that are easy to convert to cash and in many cases more liquid than stocks or bonds.
Lear Capital (http://www.learcapital.com) is a precious metals leader selling gold, silver, platinum, and palladium as well as rare and premium coins. They offer real-time gold pricing, secure ordering, golden IRA's, a Commission-Free Buy Back Program, Lear Lock Price Assurance, streaming precious metals news, historical charts, fiscal preparedness articles, and a comprehensive retirement center.
For more information on Lear Capital and the benefits of acquiring gold and silver, view their "Welcome Video" on YouTube at: https://www.youtube.com/watch?v=KYTaFnA58pU
The Lear Year-End Spot Gold Giveaway ends at midnight on December 24, 2012. Entry is free at Lear Capital's website at http://www.learcapital.com