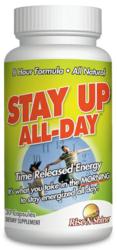 Stay Up All Day is 100% completely natural and contains no sugar or taurine.
Sparta, NJ (PRWEB) December 17, 2012
With serious questions being raised about the safety of energy drinks currently on the market, an all-natural energy supplement has been re-launched that offers a safe choice for all day energy. Stay Up All Day, the time-released energy pill manufactured in the United States by Rise-N-Shine, LLC, contains only pure ingredients that are recorded as safe substances under the GRAS (Generally Recognized As Safe) list by the FDA.
"Our proprietary energy-blend pill is made with only quality all-natural ingredients," said Cathy Beggan, founder of Rise-N-Shine. "This patent-pending formula meets the high standards set forth in the U.S. Pharmacopoeia and the current Good Manufacturing Practices (GMPSs) and I'm thrilled to be re-launching this product."
A major concern for consumers and industry watchdogs is that energy drinks are not FDA regulated so the amount of caffeine is often not listed on the label. According to the FDA, energy drinks, sold as dietary supplements, contain anywhere from 160 to 500 mg of caffeine per serving while an 8-ounce cup of coffee typically has about 100 mg of caffeine. Consumer Reports also tested numerous energy drinks and reported that those who listed their caffeine content actually had 20% higher levels of caffeine than what was listed.
"Stay Up All Day contains 108 milligrams of natural caffeine called guarana seed extract and it's listed clearly on our packaging," said Beggan. "Energy drinks and energy shots also contain significant amounts of added sugars and taurine, an amino acid that can act as a stimulant which can lead to nervousness, jittery feelings and a huge energy crash. Stay Up All Day is 100% completely natural and contains no sugar or taurine. The energy formula is released slowly and continuously to give you the energy you need throughout the day without any skittish feelings or afternoon crash – you just feel alert and energized all day."
A respected source for all-natural wellness remedies, Rise-N-Shine is a New Jersey based company engaged in developing and selling proprietary, targeted supplements on the basis of meeting everyday needs naturally, and can be found at http://www.wakeupontime.com.
# # #