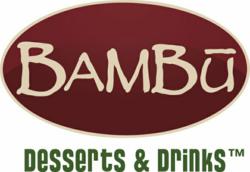 Houston, Texas (PRWEB) December 06, 2012
Bambu, the renowned San Francisco Bay Area Vietnamese dessert & drink store chain, announces the grand opening of its first store in Texas. "We are very, very excited about opening in Houston," said Kelly Nguyen, co-founder and CEO of Bambu Desserts & Drinks, Inc. "Especially since its home to the second largest Vietnamese community outside of California."
The grand opening at 10613 Bellaire Boulevard, Houston, Texas is scheduled for Saturday, December 8th from 9:00 am to midnight. Entire families of all ages are welcome to this kick-off and enjoy free "Jiggli Jellos" while supplies last. "My sisters and I started Bambu and created desserts and drinks that the entire family would enjoy," continued Kelly. "I'm looking forward to seeing people's faces light up when they experience their first Bambu dessert, coffee or tea."
"The first time we tried Bambu Chè while visiting San Jose, we knew that we wanted to take this back Houston and share it with our friends and family," said Minh Le, co-owner of Bambu Houston. "We're extremely excited about opening the first of our two Texas stores and sharing this unique experience and great drinks with the Houston community."
This new Bambu will be located in the heart of Asia Town in Saigon Houston Plaza. Saigon Houston Plaza was constructed and designed with four modernized upscale buildings to landmark the entrance of the new Asia Town in Southwest Houston. Formerly known as China Town—Asia Town—was born to reflect actual Asian diversity and make-up of the community including Vietnamese, Chinese, Filipinos, Korean, Japanese, Taiwan and Middle Eastern descent.
"With the diverse Asian community surrounding our shop, we're sure that there is something that will fit everyone's taste buds," said Vivian Nguyen, manager of Bambu Houston.
Bambu Desserts & Drinks was founded in 2008 by four sisters in San Jose, California. With nine new shops opening in the past 18 months, Bambu has become quickly known for its fresh, healthy and colorful Vietnamese-inspired Chè, unique milk teas, Vietnamese espressos, blended coffees, and exotic smoothies. Their menu has over 100 desserts, coffees, teas and drinks to select from, but you can order any item "just the way you love it" at no extra charge including extra jellies, pearls, or shots of espresso. For more information on Bambu Desserts & Drinks visit http://www.drinkbambu.com.