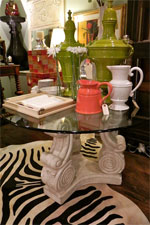 We specialize in high-end accessories for any budget, claims Founder, Cheryl Lawrence
Dallas, TX (PRWEB) December 11, 2012
Area 25 is excited to announce the grand opening of their discount outlet at 4309 W Lovers Lane in Dallas, TX. The expansion is based on their reputation for offering the best high-end consigned furniture and home accessories in the area. The shop boasts affordable home furnishings and home accessories ranging from contemporary and retro to vintage and antique. All artistically arranged in a way that allows customers to see how to display items in their own homes
"From chic to antique, we are the place to find that unique piece to update your surroundings or give as a gift," says Cheryl Lawrence-founder of Area 25. She and her team use their extensive experience in Interior Design and Home Staging to create a series of little rooms throughout the shop. Treasures found at Area 25 are a complete eclectic mix of wall art, groups of vases, pairs of chairs, and many many mirrors and Mrs. Lawrence says that the inventory changes from week to week.
Area 25 is the perfect place to consign your cherished items. And if you like a little personality in your furniture and home accessories, stop at Area 25. It's more fun to get a cool, funky piece at a discount!
Area 25 is open from Tuesday through Saturday from 10:00 a.m. until 5:00 p.m. For further information about Area 25, including a photo gallery and consignment information, visit the shop's new website at http://www.area25dallas.com.
About the company:
Area 25 offers the best and at Area 25, customers will find the best consignment furniture and accessories in town. Meticulously curated by owner Cheryl Lawrence, Area 25 has earned its reputation as the best consignment furniture shop and antique store in the Dallas metroplex. Customers will find the items and ideas that will turn any space into the home of your dreams. For more information, please visit their website at http://www.area25dfw.com.