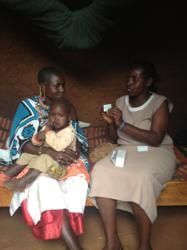 Drought, escalating food prices, and conflict have brought hunger and malnutrition to more than 2.4 million people in Kenya. But all of this is on the verge of change.
Washington, D.C./Kajiado, Kenya (PRWEB) December 07, 2012
Thanks to contributions from Herbalife and DSM, as well as its grassroots supporters, Future Fortified, a global nutrition campaign of the Global Alliance for Improved Nutrition (GAIN), today announced it has reached its fundraising goal to provide more than 20,000 children in Kenya with vital home nutrition packets to help them live, grow, and thrive. Home nutrition packets make it easy for moms to sprinkle vitamins and minerals onto their children's meals, nourishing them for only pennies a day.
Future Fortified Campaign Head Adrianna Logalbo traveled to Kenya this week to meet with the local partners, mothers, and community health workers to see firsthand the urgent problem of malnutrition and the impact of the home nutrition packets. "Drought, escalating food prices, and conflict have brought hunger and malnutrition to more than 2.4 million people in Kenya," said Logalbo. "As a result, children have alarmingly high rates of vitamin deficiencies, leading to blindness, illness, and even death from common childhood infections. But all of this is on the verge of change."
GAIN has been working closely with its partners in Kenya, including the Government of Kenya, Feed the Children, and Phillips Healthcare Services Ltd, to plan an effective distribution of the first tranche of 20 million home nutrition "MixMe" packets which were contributed by DSM, a leading producer of vitamins and nutritional ingredients, and Herbalife, a global nutrition company. A critical component is the education of mothers and families on the importance of good nutrition and the proper use of these home nutrition packets. Money raised by Future Fortified's grassroots supporters and partners, including Herbalife through its successful fundraising campaign around their involvement in the World Football Challenge, was invested in the training of the community health workers who will deliver the education.
"Over the last year, Herbalife employees and independent distributors have embraced our relationship with GAIN and rallied around the opportunity to help address the critical nutrient needs of children in Kenya," stated Michael O. Johnson, Herbalife's chairman and CEO. "We are honored to be working in partnership with GAIN and the Future Fortified campaign to provide both the MixMe packets as well as support the necessary education of families and mothers on their proper use."
"DSM remains dedicated to helping people, and especially women and children receive the nutrients they need," said Stephan S. Tanda, Managing Board Member of DSM. "It is a pleasure to join GAIN, Herbalife, and Future Fortified to provide life-changing nutrition packets in Kenya and we hope to continue to help fight global malnutrition so people everywhere can lead healthy and happy lives."
"We are grateful for the support of DSM, Herbalife and our supporters," said Logalbo. "Gladys, a local community health worker, told me that as children in this part of Kenya are not well nourished due to a shortage of food, mothers are already eagerly using the home nutrition packets to provide their young children with the vitamins and minerals they need to grow healthy and strong."
About the Distribution Campaign:
The distribution of the MixMe home nutrition packets to children 6-24 months began on December 3 in Kajiado Central – a region located in Rift Valley Province where the maternal mortality rates are high and children under five years of age are vitamin A deficient. The children will receive a monthly supply of MixMe packets during monthly clinic visits over the next six months. Community health workers will also carry out household visits to ensure the packets are being used correctly.
The health worker training took place from August through late November and was facilitated by the Ministry of Health Division of Nutrition officials with support from the World Food Programme and Feed the Children.
This project is the first phase of a nationwide campaign led by the Government of Kenya to reach 2.1 million children across the country with home nutrition packets, providing the essential vitamins and minerals needed for children to get the right start and reach their full potential.
Additional Background on Nutrition and Home Nutrition Packets:
Good nutrition is critical for women and children in the 1,000 days from a woman's pregnancy to a child's second year of life, providing the essential nutrients needed for healthy pregnancies, good growth, and proper development. Poor nutrition is an urgent problem because the effects are lasting and irreversible. Poor nutrition is the underlying cause of 1 in 3 childhood deaths worldwide, has led to 200 million children currently physically stunted, and can lower a child's ability to learn, even limiting IQ by 10-15 points.
There is a simple, lasting solution. Women and children around the world can access essential nutrients through home nutrition packets. This has proven to significantly raise IQs and reduce deadly diseases such as pneumonia.
###
Media Contact: Amy DiElsi, 215-990-3006 or media(at)futurefortified(dot)org
About the Future Fortified campaign and GAIN
Future Fortified is a public awareness campaign of the Global Alliance for Improved Nutrition(GAIN) to enable individuals, businesses, and organizations to help millions of women and children around the world access the essential nutrients they need to lead healthy, productive lives. GAIN supports public-private partnerships to increase access to the missing nutrients in diets necessary for people, communities and economies to be stronger and healthier. With a current reach of over 667 million people in more than 30 countries, GAIN's goal is to improve the lives of 1 billion people by 2015 within the most vulnerable populations around the world through access to sustainable nutrition solutions. For more information, visit: http://www.FutureFortified.org and http://www.GainHealth.org.