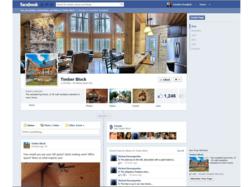 We get the opportunity to educate on a far more profound level.
Connelly Springs, NC (PRWEB) December 12, 2012
Timber Block, the revolutionary R-30 insulated log home, is more engaged than ever with its customer base. Whether it's sharing local events, posting images for customer feedback, or simply providing a forum for customers and potential customers to chat, social media has become as important a tool for Timber Block as the computer and phone.
Nothing could drive home this point more than what Michael Boomgarden did. Mr. Boomgarden, a US federal court attorney, has been offering up frank updates on his building process on Facebook. He has posted pictures along the various stages and answered any questions from fellow fans as they arise. He has even offered to open up his home to those who live in neighboring communities so people can see the product for themselves. Taking it one step further, when he heard that Timber Block was hosting a Grand Opening just outside of Hickory, NC, he agreed to take the trip out and host an information session for fellow Timber Block guests.
His candor and sincerity were translated from the online forum to up close and personal and it was a sight to behold as potential customers peppered him with questions of their own and got answers from the customer perspective. This kind of transparency, so common in social media, was tremendously well received by the guests of the Grand Opening.
This is a great third party endorsement and demonstrates the lasting effects of good customer service. Timber Block is delighted to have watched guests become homeowners, and then grow into brand advocates or "super-fans".
As Timber Block homes go up on a daily basis, the company shares these spectacular wall raisings with followers on Facebook and Twitter. Log home enthusiasts are checking back in on a regular basis and are turning up more and more at these events – turning them into impromptu information sessions set in a live setting.
"It's one thing to talk about our product, and even to show pictures and videos, but when customers follow us socially, and then show up for our wall-raisings, we get the opportunity to educate on a far more profound level," said Craig Johnson, President of Timber Block USA.
Customers even have input into style and décor. With feedback on photos coming in fast and furious at every post, Timber Block is picking up on the pulse of the market. Geographic trends become clear when it comes to home décor, and that information is tremendously valuable as we continue to build and furnish model homes in new markets. Gone are the days of only interacting with customers at trade shows and model visits. Timber Block homes are visited virtually on a daily basis and the social media platforms allow for the most honest and critical of opinions to be shared.
It doesn't end at the consumer level. Timber Block's talent pool is strengthening with some recent recruits having been found on LinkedIn and Facebook. Whether or not advertising for an open position, Timber Block garners interest from top candidates that are impressed with the brand. The positive feedback on the social playing field acts as a magnet for those looking to be involved with innovative, upward-moving companies with growth potential.
About Timber Block:
Timber Block's team of professionals offer a product unmatched in residential or commercial log and timber construction, which provides clients with state of the art, environmentally responsible technology combined with cost-effective building methods. Delivering stock or custom products, the team at Timber Block works within partnerships, maximizing the aesthetic and investment, to realize the dream of each unique project. Timber Block provides custom or stock insulated log homes utilizing a revolutionary R-30 insulated log, which is a proprietary and patented product.