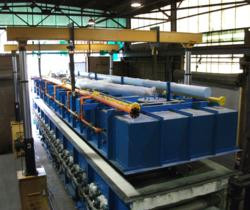 Niagara Falls, Ontario Canada (PRWEB) December 07, 2012
Can-Eng Furnaces International Limited is pleased to announce the shipment of a Bright Tube Annealing Furnace for the JMC Steel Group. The 25,000 lbs/hr line will be installed in Wheatland, PA as part of JMC Steel's Wheatland Tube Division expansion. The unit is configured to operate under dry EXO gas for the bright annealing of heavy walled precision cold drawn mechanical tubing. With an overall line layout stretching out more than 300 feet by 14 feet wide, the furnace will form the basis for one of the largest bright tube annealing facilities in the North America.
The main furnace section measuring 60 feet in length and weighing approximately 165,000 lbs is shown in the attached photograph being prepared for shipment from Can-Eng's Port Colborne Ontario facility. A Q1 2013 start-up is anticipated for the new DOM (Drawn Over Mandrel) Complex.
This is the fourth major contract that Can-Eng has undertaken for JMC in recent years, including subsidiaries Atlas Tube, Sharon Tube, and Wheatland Tube company. JMC Steel Group is one of North America's largest producers of tubing utilized in the OCTG, Hollow Structural, Electrical Conduit, Sprinkler Pipe, and Mechanical Tubing industries.
For further information, please contact Gregory R. Stanley, North American Sales Manager, Steel Products, gstanley(at)can-eng(dot)com.