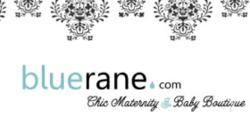 New York, NY (PRWEB) December 07, 2012
Bluerane.com is a one stop shop for the expecting mothers. They offer customers a tremendous variety of maternity clothing from tee shirts to that perfect maternity dress for a romantic evening out, all stylishly chic. Our Baby Boutique carries everything for a new mom and her new bundle of joy!
This website is a reflection of its owner trendy, smart and sophisticated approach to maternity fashion. Our maternity clothes are from some of the top designers in maternity and baby wear. Each item is handpicked with quality in mind.
Bluerane.com was designed and built with the customers experience and safety in mind.
"We want to make the customer online shopping experience exciting. When logging on to Bluerane.com our customers will feel like they are in a chic and trendy boutique on New York's 5th Ave" said Laurane Baugh, Owner of Bluerane.com.
After layoffs at her current job owner Laurane Baugh decided to finally pursue her dream of owning her own boutique. Being a mother who knows what a new mother needs. Laurane hope that http://www.bluerane.com will provide a lasting impression on its customers