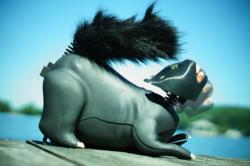 For the boat or dock owner on your holiday shopping list… a GullCat is the present that never stops giving.
Marblehead, MA (PRWEB) December 08, 2012
There are few experiences more frustrating for a boat or dock owner than heading down to the water anticipating a peaceful morning only to spend hours cleaning up messy bird refuse. With the tested and tried GullCat, you can now enjoy that peaceful morning.
Imagine owning a cat that prevents birds from soiling one's property. For the boat or dock owner during the holidays… a GullCat is the present that never stops giving.
The GullCat was invented by Bob Alves, founder of Gulls Gotta Go, based in Marblehead. Alves, a life-long yachtsman, constantly heard mariners whine about bird residue. Frustrated he kept to the basics, experimented and through trial and error ended-up with a product that to everyone's surprised worked. Soon his neighbors saw the results and immediately began asking for their GullCat
The GullCat is a life-like predator that mimics a bird's arch-enemy. It looks like a cat prepared to pounce with its head lowered, back hunched, open mouth displaying fangs and bright eyes. Its life-like appearance is caused by the slightest breeze or ocean movement due to a spring-loaded head that also activates the furry tail. Tested to be effective up to 50 feet, birds will think a real predator is at the doorstep.
The GullCat is weather-proof, UV protected and tethers allow you to secure it to any surface. Best of all requires no maintenance…powered by the wind or waves. Just place it in the area where birds tend to flock and the GullCat will work while you rest.
The Gulls Cat retails for $85. For more information on Holiday specials visit http://www.gullsgottago.com or click here to order.