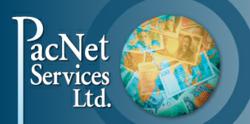 The mix of exhibitors providing services for online selling and offline, with catalogue and mail order channels, gave the conference a real dimension, which is missing from pure ecomm trade shows
Vancouver, BC (PRWEB) December 06, 2012
The ECMOD 2012 Direct Commerce Show took place November 27th and 28th at the Business Design Centre in London. ECMOD, which stands for 'every channel mastered optimised and delivered' serves the catalogue, home shopping and multi-channel retailing community, business-to-business distributors and pure-play online businesses.
PacNet Services, an international payment processing company that serves the needs of multi-channel retailers worldwide, made full use of the networking opportunity to spread the word of their global payment capabilities. Brian Weekes, Head of Sales for PacNet's European arm, notes, "It was great to meet successful businesses who are expanding overseas, we met quite a few who are an inspiration to others and were glad to share their experiences and challenges. The key to this event is networking and maximizing the opportunity to learn from the conference sessions, and this strategy worked very well. We met some great people and are busy continuing discussions with them. The mix of exhibitors providing services for online selling and offline, with catalogue and mail order channels, gave the conference a real dimension, which is missing from pure ecomm trade shows".
For 22 years the organizers of ECMOD have delivered a show which combines the sharing of knowledge from inspirational speakers in the two day conference, with an exhibition which brings together the systems, services, technology and expertise to address the ever changing needs of the multi-channel retailer. The next networking opportunity offered by ECMOD is in 2013, and PacNet will once again be in attendance, Weekes confirms: "We'll definitely be back next year".
About PacNet:
PacNet Services is an international payment processing company with representation on six continents. PacNet offers a diverse range of both traditional and electronic payment services for e-commerce, direct mailers, publishers and more. Some of the payment facilities offered by PacNet include credit card processing in 130 currencies, direct debit, EFT, ACH, check processing and bank transfer collection from the US, UK and around the world. PacNet also initiates payment disbursement by check and EFT for refunds, rebates, commissions and royalties in both major and developing markets around the globe.