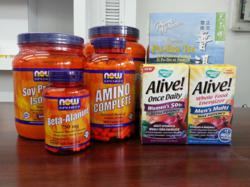 These brands are among the most trusted and innovative in the nutritional supplement market today, with products that cover a range of health concerns, and that have been clinically proven to be safe and effective.
Brooklyn, NY (PRWEB) December 07, 2012
NOW Foods is one of the most popular dietary supplement brands at Everyday Vitamin. They are committed to improving the health of all people, regardless of economic status. NOW Foods formulates its supplements out of natural organic ingredients easily processed by the body. Their unique products make it easy to achieve healthy goals in various therapeutic categories such as cardiovascular health, cognition, gastrointestinal, immune, and joint support, liver health, weight management, and many others.
Some of the Now Foods brands that EverydayVitamin.com carries include: top seller, Now 7-Keto DHEA metabolite, B12 for nervous system health, Co-Q10 for heart health, Amino Complete and Beta-Alanine for sports nutrition, Now Foods AAKG 3500, Now Foods Acai, among many others.
Nature's Way takes a more spiritual approach to health. Nature's Way does not devalue traditional medicine, but takes a more balanced approach through herbal medicine and supplements for natural health and healing. Their line of products includes single herbs and herbal extracts, homeopathic remedies, full line vitamins and minerals, and specialty products. Many of their supplements contain natural fruit extracts, whole fruits, and other plant-derived ingredients. Nature's Way is licensed to manufacture pharmaceuticals and nutraceuticals, and its facilities, methods and ingredients have been certified organic. Their balanced view of nutrition applies scientific knowledge to simple remedies.
Some of the Nature's Way brands EverydayVitamin.com carries are: Alive! Whole Food Energizer Multivitamin, Alive! Once Daily Women's Ultra Potency, Alive! Once Daily Men's Ultra Potency, Ginger Root 100mg, Nettle Leaf 435mg, Milk Thistle Standardized, among plenty others.
For those who wish to supplement a healthy diet and lose weight can find satisfaction with Prince of Peace products. Prince of Peace's products help achieve emotional and spiritual wellness. Prince of Peace are mostly known for their variety of ancient Asian organic herbal teas, such as Ginseng, Green Tea, and Oolong Tea, but also offer herbal extract formulas, dietary supplements, and gourmet products.
Among some of Prince of Peace's products carried by EverydayVitamin.com are:
Premium Pu-Erh Tea, 100% Organic Premium Peony White Tea, Premium Oolong Tea, Jasmine Green Tea, etc.
Now Foods, Nature's Way, and Prince of Peace manufacture(s) products that strictly adhere to Good Manufacturing Practices (GMP) guidelines and safety standards, and contain high-quality raw ingredients that have been rigorously tested in state-of-the-art laboratories.
EverydayVitamin.com offers complimentary shipping on orders over $50, and the website contains health guides to educate customers on supplements, supplement benefits and healthy living.
About Everyday Vitamin
Everyday Vitamin Nutrition LLC, is a natural health company based in Brooklyn, NY and online retailer that aims to promote nutrition and health through the sale of vitamins and supplement products, herbs and homeopathic remedies. These products include vitamins, minerals, dietary supplements, diet and weight loss teas that provide numerous health benefits that assist in weight loss management, exercise nutrition and improving overall health.
EverydayVitamin.com carries hundreds of well-known, trusted brands such as Genesis Today, Life Extension, Nature's Way, and Now, which have been proven safe and effective by solid scientific research.
Visit http://www.everydayvitamin.com for more information.