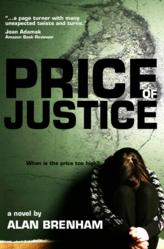 "Price of Justice . . . a story of murder, corruption and overcoming grief. It will keep the readers on the edge of their seats with an action-packed plot from beginning to end."
-Ellen Hogan
(PRWEB) December 08, 2012
Turn on the news, and viewers can see story after heartbreaking story about crime and punishment: child goes missing, child's remains are found, investigators close in on suspect, suspect is arrested, charged, tried, and is either found guilty or not guilty by a jury.
In Alan Brenham's thrilling debut novel, Price of Justice, Austin-based Detective Jason Scarsdale is grieving the loss of his wife when he becomes entangled in solving three murders. Along the way, he inadvertently strikes up a friendship with crime analyst Dani Mueller, who has seen her own share of tragedy and has just one thing on her mind: vengeance. When Scarsdale is assigned to investigate the death of a man he arrested, he begins to uncover new evidence indicating the man is innocent of the crime; however, the investigation is stalled by one of the Detective's own corrupt colleagues, and by Mueller, who witnessed the murder but is silenced by a dark secret. In a breathtaking series of twists and turns, the real killer abducts Scarsdale's beloved daughter and Mueller is kidnapped. Scarsdale is faced with the ethical dilemma of his career and his life, and is forced to rethink the value of playing by the rules.
Blending mystery, action, and just a hint of romance, Price of Justice dives into the chilling world of sex crimes while highlighting the intricacies of human emotion and family bonds. Brenham's new thriller takes the reader on a fast-paced ride with sharp dialogue and multi-dimensional characters that pull the reader in and won't let them go.
Having served as a law enforcement officer and then a criminal defense attorney for twenty-two years, Brenham provides the language, detail, and rawness that only someone who has been in the field could offer.
"Along with real happenings in the news media, I crafted the plot and sub-plots in Price of Justice from cases I worked on during my time as a detective, prosecutor, and criminal defense attorney," says Brenham. "I also consulted with a homicide sergeant, the crime lab director with the Austin police, and a crime scene expert from the Houston area to bring the events of the book to life."
Edge-of-your-seat suspense is threaded with glimpses into tender human relationships as Brenham explores themes that include:

The role of revenge and vigilantism in our society and whether these acts are ever truly justified
The pitfalls of workplace deception and corruption and its impact on co-workers and subordinates
Learning to be an effective single parent and forming a strong father-daughter bond
The challenges of blending and balancing work demands with family needs
The power of second chances
After graduating from Texas A&I University with a degree in Sociology, Alan Brenham [pseudonym for Alan Behr] worked as a federal criminal investigator, during which time he traveled through Europe and the Middle East as a Special Deputy US Marshal. Following this position, Brenham joined the Temple Police Department where he worked as a patrol officer, and later, a crime analyst. Here he was awarded the Outstanding Law Enforcement Officer Award. Brenham left to live in West Berlin, Germany, while contracted to U.S. military forces as a civilian law enforcement instructor. Two years later, he returned to the Temple Police Department and was promoted to detective.
Brenham attended Baylor Law School and practiced law as a prosecutor and, later, as a criminal defense attorney. After leaving private practice, Brenham worked as an Assistant General Counsel for the Texas Department of Criminal Justice. Brenham is now retired from the State of Texas and combining his life experience with his love for writing. Price of Justice is his first novel.
Website: http://www.alanbrenham.com
Price of Justice can be purchased from http://www.amazon.com and http://www.barnesandnoble.com.