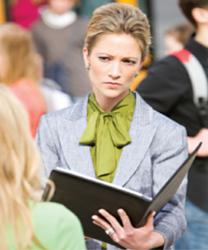 Teachers and administrators have the option to publish a report while they are walking the hallways as long as they have their device in hand.
Chantilly, VA (PRWEB) December 11, 2012
Bullying is a growing concern among schools. Studies have shown that 1 in 7 students in grades K-12 is either a bully or a victim of bullying. The MyStudentCare suite of modules gives school teachers and administrators additional lines of communication to parents who, as a result, can manage their child's behavior through the application. These additional lines of communication come in the form of messages that can be sent through the MSC system as well as information that can be viewed through the application itself and can be accessed by parents or administrators at any time.
MyStudentCare's Incidents Module allows school administrators and teachers to log bullying incidents, or any type of harassment involving students, from their mobile devices or computers. Once an incident occurs, a school administrator can create a new entry into MSC by entering all of the necessary information (e.g., name of victim, name of offender, type of altercation, etc.). These information fields can be defined by the school and can be tailored to fit state guidelines for reporting such incidents.
Since MyStudentCare is accessible using a mobile device, teachers and administrators have the option to publish a report while they are walking down the hallways as long as they have their device in hand. Additionally, the teacher or administrator who enters the information into the application can decide whether the parent should be notified immediately or not, depending on the severity of the incident. For example, if a relatively minor incident were to occur, such as disrupting a teacher during lesson time, the incident can be logged but not immediately shared with the parent unless it were to become a recurring problem. On the other hand, if a student were to commit a more serious offense, resulting in a disciplinary suspension or worse, then the parent can be notified immediately both through the MSC application and by email once the incident is logged in MSC.
The Incidents Module is linked to the student information records that are entered into the MSC system so that all of this information is readily available. Incidents can be viewed in a sortable list or, if a teacher or administrator would like to view a specific incident, can be searched for using various search fields (e.g., name, school, or date of incident).
In terms of keeping personally identifiable information secure, MSC is both HIPPA and FERPA compliant. While bullying in schools cannot be outright eliminated, schools can effectively track and manage incidents by using MSC in the hopes of finding new ways that these incidents can be reduced in the future.
About Insystech, Inc.:
Insystech, Inc. was founded in March of 1997 to harness the burgeoning demand for "good quality" IT service providers. At that time, the founder's prior experience, expertise, and track-record in replacing outmoded and fragmented legacy systems with modern relational databases (often in a web-enabled environment) differentiated Insystech from other competitors providing services to government and educational clients. Insystech targeted various education-related IT projects over the last 15 years. The scope of each project has ranged from working with small, rural schools to large, sophisticated schools and school districts. Insystech continues to introduce quality products that address the needs of these school systems.