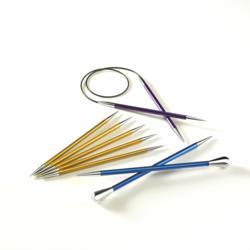 Kenosha, WI (PRWEB) December 08, 2012
With gifts for every type of knitter and fit for any budget, this gift guide showcases everything from knitting needles to stitch markers that even the most discerning knitter on your list will appreciate.
Gifts that top the list include:
•A complete set of Signature Circular, Single Point, or Double Point Knitting Needles
•Beyond Knit & Purl Scarf or Sock Kit by Kate Atherley
•Stitch Markers designed exclusively by Danidorem
•Flip Flop Color Size 9 & 10 single point needles
•Signature Gift Baskets
•Lacy Arches Cardigan Kit designed by Shirley Paden
•Signature Sock Blockers
For more information, or to view the entire Signature product line of knitting needles, accessories, and gifts, please visit http://www.signatureneedlearts.com/gifts/gift-guides.html
About Signature Needle Arts
Signature Needle Arts is an online knitting needle and accessory company that manufactures custom products for a growing audience of knitting consumers. The company is passionate in providing its customers with heirloom quality products made entirely in the U.S.A.