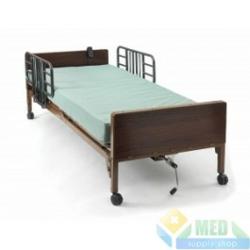 Patients are experiencing a change in home medical supply, as the selection of hospital beds available for home bound patients has increased.
New York, NY (PRWEB) December 11, 2012
Medsupplyshop.com is proud to announce that it's increasing it's already large selection of hospital beds and accessories to offer to the public more options.
Hospital beds in the past were expensive, and tough to use among others, but developments in the past few years have led to sweeping changes in the industry that have lent themselves for use in the home, whether the patient be home-bound or not.
"Patients are experiencing a change in home medical supply, as the selection of hospital beds available for home bound patients has increased. From beds to bed accessories, the prices have come down, and the selection has gone up," says David Winzelberg CEO of the home medical supply company.
There are some major key points to think about when selecting a hospital bed from side rails, and adjusting the bed height, to the type of mattress, the portability of the bed, and the ability to raise and lower the head and feet.
Side rails are an important feature not only for the ability of the patient to grip the rails when getting in and out of the bed, but they also provide a safety barrier so the patient doesn't fall out of the bed. A great example is the half-length "T" style bed rails Model# 15021bv by Drive Medical, selling for $72.30. The half-length "T" style bed rails offer maximum protection, without compromising patient comfort. Anyone who cares for an elderly patient shares this concern of falling out of a bed, as it can cause a myriad of maladies such as fracturing a hip which takes a long time to recover from.
Bed height adjustment is an fantastic feature that patients have really taken to. From a patient's standpoint, it makes the bed lower, so getting in and out of the bed are much easier. A prime example is the Patriot Full-Electric Bed Only - Model# US0458 Everest and Jennings, which is designed and engineered by the same team who develop the GF Long Term Care beds.
For the patient who has trouble sitting down, the bed can now be at a comfortable height, and the same goes for getting off the bed.
Washable Mattresses are available for purchase, they are made of washable, think vinyl that can be properly cleaned and disinfected if the need arises. An example is the Elite Clinical Care Mattress Series - Model# 9198042H-1633 by Lumex selling for $284.99. The heel section uses smaller cells to address the sensitive pressure reduction needs of the heels and ankles. The soft and durable Chemsafe bottom covers are bacteria resistant, flame retardant, fluid resistant, anti-static, non-allergenic, stain resistant, and easy to clean
In addition, air mattresses and gel mattress overlays greatly reduce the onset of a bed sore.
Bed sores, also known as pressure sore, decubitus ulcer, which is an ulcer on the skin. A bed sore develops when blood supply to the skin is cut off for more than two to three hours. As the skin dies, the bed sore first starts as a red, painful area, which eventually turns purple. Left untreated, the skin can break open and become infected. A bed sore can become deep, extending into the muscle. Once a bed sore develops, it is often very slow to heal.
If you are not a fan of medsupplyshop on facebook or following via twitter they highly recommend you do so, as they post periodic specials via the social media outlets. Their facebook profile can be found at facebook.com/medsupplyshop and twitter page is twitter.com/medsupplyshop.
The retailer can be found online at http://medsupplyshop.com and their expert phone support can be reached by calling 877-633-9324.