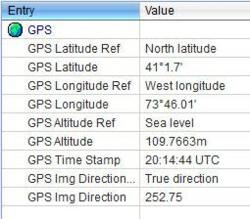 Smartphones are everywhere, as are devices like cameras, navigation systems and other GPS enabled devices and application which can expose revealing details many users are completely unaware of
New York, NY (PRWEB) December 07, 2012
To offer some insight into what smartphones and other devices can actually reveal, Joe Caruso, founder and CEO/CTO of Global Digital Forensics, who has assisted legal counsel and law enforcement agencies in countless investigations dealing with digital evidence, tackles some of the questions that come out in force when stories like this make the headlines; they always seem to open many new eyes as to just how much information about everyday actions lies in the digital world. And for good measure, Global Digital Forensics is also announcing that its introductory flat rate mobile phone forensics offer will be extended through the rest of 2012.
Where in the world is John MacAfee? That was the question for law enforcement agencies involved in a story of international intrigue with all the goodies, a murder investigation, tales of government corruption and blackmail, rejected political asylum, and of course, a high profile, technically savvy millionaire on the lamb, yanked out of his spider-hole in the end by an alert hacker who exposed his exact location by gleaning his GPS coordinates from a picture taken on a smartphone and published online; 15° 39' 29.4 North, 88° 59' 31.8 West," at 12:26 p.m. Monday, to be exact.
Smartphones are everywhere, as are digital devices like cameras, navigation systems and other GPS enabled devices and application which can expose revealing details many users are completely unaware of. In the hands of computer forensics professionals, they can be critical to establishing timelines and uncovering facts about an investigation.
For more insight, Caruso answers a few common questions and concerns.
How was John MacAfee's location exposed?
"Apparently he had some journalists from Vice accompanying him, and to prove they were actually with him, one of them snapped a picture of him which got posted online without the EXIF (Exchangeable Image File format) information being removed. This can identify the type of device, right down to a model, the time and yes, the latitude and longitude at the time the image was snapped. A hacker named Simple Nomad picked up on it, and the rest, as they say, was history. For someone as technically savvy and well versed in the realm of digital forensics as John MacAfee, it was an oversight of monumental proportions considering his high profile quasi-fugitive status. And judging by all the questions about mobile phone forensics we get when cases like this are exposed, a lot more eyes were opened as to how much information an experienced computer forensics analyst can uncover. If a mobile phone and its treasure of digital evidence may be important to a case, our flat-rate mobile phone forensics offer is a great place to start."
Is this type of geo-tracking only applicable to iPhones?
"There are a slew of devices which can employ geo-location, from smartphones and GPS navigation units, to digital cameras and beyond, so it's certainly not limited to iPhones. Location information may also be stored by providers for undetermined, and possibly considerable lengths of time. In MacAfee's case, the culprit was an iPhone 4S. It pays to do a little digging into a particular device's specifications to know exactly what kind of location tracking is happening with any particular unit, application or service."
Watch what you post on social networks.
"This story should also raise some alarms for law-abiding citizens too, like concerned parents. We've assisted in our share of criminal cases involving child pornography and child predators. When you snap a picture of your little angel in a park, or your backyard, and post it online for the world to see with the EXIF metadata (data about data) intact, you may not just be laying breadcrumbs for the wrong type of people to follow, but a big neon bull's-eye they can program right into their navigation system, think about that. There are also social networking applications which work off geo-location data, so investigate the services and devices being used and follow the golden rule, be extra careful and know exactly what is being shared with the world," Caruso warned.
What can a computer forensics specialist do with this type of digital information?
"Computer forensics specialists consistently uncover many types of information from digital sources a causal user would never even think of, and it has helped find the smoking gun in countless cases, from child pornography cases, to patent disputes, matrimony cases, and everything in between. But the huge advantage of using professionals intimately familiar with the practices and methodologies of identification, acquisition, analysis and production of that digital evidence from an electronic discovery (eDiscovery) perspective, is that it will ensure fully defensible digital evidence which will stand up to the unyielding scrutiny of the opposition, as well as the courts. And with GDF's background, the transition can easily be made to effectively handle counsel's expert witness needs in both testifying and non-testifying capacities."
Call Global Digital Forensics today at 1-800-868-8189 to take advantage of our flat-rate mobile forensics offer, or to speak with digital evidence specialist. Every client's situation and needs are unique, so let a GDF digital evidence expert help tailor a plan that will see any digital evidence needs met on time, and on budget. For more information, visit http://www.evestigate.com.