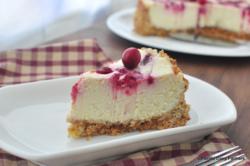 These dishes are made from the food groups people need most – low-fat dairy, fruits, vegetables, whole grains and lean protein.
Orlando, Fla. (PRWEB) December 11, 2012
With Christmas and New Year's on the way, families keep their traditional and cherished recipes on-hand for those big celebration days. If you're looking to try something new before and after the holidays, Florida Dairy Farmers' newly-developed recipes are sure to become family favorites. These unique dishes offer year-round fare that are both flavorful and nutrient-rich, and made from the food groups people need most – low-fat dairy, fruits, vegetables, whole grains and lean protein.
NOTE: High-resolution color photos for each dish can be emailed. Recipes and photos can also be found at: http://www.floridamilk.com/health-nutrition/recipes/.
CRANBERRY ORANGE CHEESECAKE WITH A GLUTEN FREE TOASTED OAT AND ALMOND CRUST
Preparation time: 55 minutes
Baking time: (total including crust) 1 hour 15 minutes
For the cranberry topping: (whole berry cranberry sauce may be substituted)
1 bag fresh cranberries
1 cup sugar
1 teaspoon vanilla
¼ cup orange juice
¼ teaspoon cornstarch
Place the cranberries, sugar, vanilla, orange juice and cornstarch in a medium saucepan. Place over medium high heat, stirring occasionally, until berries burst and sauce thickens. Set aside to cool.
For the crust:
3 cups rolled oats *see note
¾ cup slivered almonds
1 stick slated butter, melted
1 ¾ cups sugar
1 teaspoon vanilla
Preheat oven to broil. On a rimmed baking sheet, spread the oats and almonds. Place under a broiler for 1-2 minutes, (stirring halfway through). Remove immediately when lightly toasted. Allow oven temperature to reduce to 350 F.
Place the toasted almonds and oats in a food processor fitted with blade and pulse until fine. Place the oat/almond mixture into a medium mixing bowl and add the remaining ingredients. Press the mixture onto the bottom and halfway up the sides of a 9" spring form pan. Bake in a 350 F oven for 15-17 minutes. Set aside on a baking sheet to cool slightly.
For the cheesecake:
3- 8 ounce blocks of cream cheese
16 ounces sour cream
3 large eggs
1 cup granulated sugar
3 teaspoons orange zest
1 teaspoon vanilla
¼ teaspoon salt
Place a small casserole pan on the bottom shelf of the oven, fill halfway with water. Preheat oven to 325 F. In a food processor, pulse the cream cheese and sour cream until smooth. Add in the sugar and pulse until incorporated (3-4 pulses). Add in the eggs one at a time, pulsing just enough to incorporate. Pour mixture into a bowl and fold in the vanilla, salt and orange zest. Gently pour into prepared crust pan that has been placed on top of a baking sheet. Place several spoonfuls of the cranberry mixture on top of batter and gently pull a knife through to swirl. (There will be leftover cranberry sauce.) Bake at 325 F for 55-60 minutes, or until center 3-4" is slightly quivery. (This will set as cheesecake cools.) Gently run a smooth knife along outer edges to prevent cracking. Turn the oven off and allow cheesecake to cool inside the oven 2 hours with the door halfway open. Once cooled, allow cheesecake to chill, covered in the refrigerator for 3-4 hours. After cheesecake has chilled, unmold from pan and serve. Serves 8-12.
*Note for those with a sensitivity to gluten: When choosing oats, be sure to check that the oats are processed in a gluten-free facility.
Low-fat or non-fat milk can be substituted for whole milk in all recipes.
# # #
About Florida Dairy Farmers
Florida Dairy Farmers is Florida's milk promotion group, working to enhance the image of the dairy farming industry and increase milk and dairy product sales statewide via education and marketing. FDF is one of 18 member organizations of the United Dairy Industry Association and carries out the programs of Dairy Management Inc., the umbrella organization based in Chicago, Ill. For more information, call 407- 647-8899 or visit http://www.floridamilk.com.