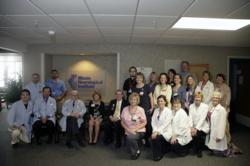 "At OSF Saint Francis Medical Center, we have a comprehensive team approach to stroke care."
Jan Jahnel, Chief Stroke Nurse Coordinator
Peoria, IL (PRWEB) December 09, 2012
The Illinois Neurological Institute's (INI) Stroke Center at OSF Saint Francis Medical Center has been named a Comprehensive Stroke Center by the Joint Commission and the American Heart Association/American Stroke Association.
It is the second center in the United States to earn this prestigious designation and the first in Illinois and the Midwest.
Established in 1995 under the direction of Dr. David Wang, the INI Stroke Center at OSF Saint Francis became the first JCAHO certified primary stroke center in Illinois in 2004.
In September 2012, the Joint Commission, in collaboration with the American Heart Association/American Stroke Association's Brain Attack Coalition, launched the Advanced Certification for Comprehensive Stroke Centers (CSCs). This new level of certification recognizes the significant resources in staff, training, and state-of-the-art infrastructure that comprehensive stroke centers must have to treat complex stroke. This level of certification is only available to comprehensive stroke centers in Joint Commission-accredited acute care hospitals such as OSF Saint Francis Medical Center.
The INI Stroke Center at OSF Saint Francis underwent a rigorous two-day onsite review in September. Joint Commission experts reviewed compliance with the Comprehensive Stroke Center standards and requirements including advanced imaging capabilities, 24/7 availability of specialized treatments, and staff with the unique education and competencies to care for complex stroke patients.
"This is a fine example of the Mission of OSF Healthcare in its pursuit of providing the best care to our patients," said Dr. Wang in announcing the certification. "Not all stroke centers are created equal. We have one of the largest inpatient stroke units in the nation, treating over 1100 stroke/TIA patients each year, the busiest center in the state. Our center is one of the most experienced in giving clot buster medication and we have a 'door to clot-buster tPA' time of 5 minutes, which we believe is the fastest in the world. We have been recognized multiple times for quality clinical research and are the hub of the largest rural stroke network, which links more than 25 Illinois hospitals. I am very proud of the work this team does."
"At OSF Saint Francis Medical Center, we have a comprehensive team approach to stroke care," says Jan Jahnel, Chief Stroke Nurse Coordinator. "Physicians, nursing staff, pharmacists, therapists, technicians and ancillary staff provide excellence in treatment response times, outcomes, and aggregate complication rates. To receive the highest level of stroke treatment and optimal chance for recovery, OSF Saint Francis Medical Center is the place to go."
To learn more about the INI Comprehensive Stroke Center at OSF Saint Francis Medical Center visit http://www.ini.org.