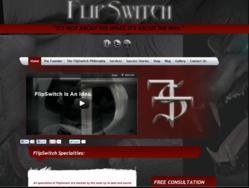 "We are more than a place or a plan to work out here at FlipSwitch. We are about your life, your goals and your health."
Jacksonville, TX (PRWEB) December 08, 2012
A new company, FlipSwitch Fitness, offering personal training, nutritional services and development of personal goals, recently launched a new Texas business. The company, founded by Justin Hall, provides customized services to help people achieve their goals and realize their potential.
Recognizing the importance of a robust online presence, FlipSwitch sought the help of online marketing strategist, Texas Biz Solutions. "We are more than a place or a plan to work out here at FlipSwitch. We are about your life, your goals and your health. We wanted to enhance our online reputation, to incorporate our business goals into an easily navigable, highly functional web solution that incorporated social media sites and blogging capabilities," according to Hall. FlipSwitch's website is now fully functioning offering customers a comprehensive overview of services, company philosophy and opportunities for customers to realize their fullest potential.
As founder and owner, Hall believes a philosophy of building vision, determination, work ethic and positive goal setting will drive success. "Exercise and nutrition are vital tools that I use in my own training. However, the philosophy that drives FlipSwitch is far bigger than those two things alone," Hall said.
"For me, this has never been about time, or money. It has been about perfection," Hall says. He has been very meticulous in developing the FlipSwitch brand. That brand is the product of years' of work and he sought out the help of three previous design companies before determining that Texas Biz Solutions was the best fit.
FlipSwitch specialties are backed by the most current science, extensive research and networking with other professionals in the fields of exercise, nutrition and dynamic movement science. To learn more about Justin Hall and FlipSwitch Fitness, visit the website at http://www.flipswitchfitness.com.
Notes to Editors:
Texas Biz Solutions, with offices in both Dallas, Texas and Tyler, Texas, develops online marketing solutions for small businesses offering basic to comprehensive online marketing strategies for a competitively low price. These solutions include improving search engine optimization for top placement in Google+, building custom websites that integrate social media outlets, including Facebook, Twitter and YouTube, as well as custom management of online design and marketing strategies. For more information about Texas Biz Solutions, visit http://www.TexasBizSolutions.com.