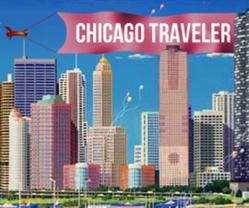 Chicago, Illinois (PRWEB) December 08, 2012
Winter Wonderfest at Navy Pier and ice skating at Millennium Park make Chicago the perfect destination for a family vacation this time of year. But tuck the kids in and put on your party dress, because this New Year's Eve, it's time to live a little and see what this city really has to offer. New Years Eve is coming up and the most important part of this holiday might just be finding a hotel near the best parties in town. Some of the best parties in Chicago are happening at Navy Pier, or very close to it. ChicagoTraveler.com is helping travelers stay in the Loop and announcing the top 3 hotels to celebrate New Year's Eve in Chicago this year.
1. The Ivy Hotel is attracting travelers for several reasons this New Years Eve.
For those looking for a more intimate New Years Eve celebration, The Ivy Hotel is hosting a luxurious New Years Eve party with a live DJ and open bar in the two large banquet rooms and lobby. A ticket to the New Year's Eve Party includes two wines passes for the Lobby Restaurant or SKY Terrace Lounge, as well as two cover passes to SKY Terrace Rooftop Lounge. Party-goers will have the run of the two banquet rooms on the 15th floor of this Chicago boutique hotel as they ring in 2013 in one of the classiest atmospheres in Chicago.
The hotel is just a short distance from some of the hottest parties in Chicago, just half a mile from the Hard Rock Cafe and an even shorter distance to the Navy Pier where several parties like Chicago's Resolution Gala, Crystal Gardens and even a few boat parties and dinner cruises will be ringing in the New Year.
2. MileNorth Hotel is also conveniently located near some of Chicago's top nightlife scenes. Just minutes from parties at Navy Pier and all over Downtown, the MileNorth Hotel also offers several deals that allow each traveler to spring for an upgrade without going into debt heading into the New Year. Pair a room at this comfortable, luxury hotel with a shopping package and take advantage of all the nearby world-class shops and boutiques or the romance package when traveling with someone special. The possibilities are endless this New Year's Eve at MileNorth. Guests can even plan private parties of their own at MileNorth over the holidays, making this hotel the perfect destination for travelers and locals alike.
3. InterContinental Chicago is conveniently located on Michigan, a hot spot for Chicago travelers year round, and the nightlife, world-class shopping and restaurants make this hotel a go-to this holiday season. The InterContinental Chicago is just downwind from of fabulous parties like the New Years Eve Party at the Hilton, but is also offering some great holiday specials and deals to save on rooms and score extra perks.
Don't miss out on any of the hottest parties this New Year's Eve in Chicago, and don't stay so far away that getting to the ball on time is a feat. This is one of the best nights of the year, so make it easier on everyone in the group and stay near all the best things to do in Chicago. Many of the best limo services in Chicago cater to these areas to make the night even more lavish.
About ChicagoTraveler.com:
Chicago is one of the top vacation destinations in America famous for their annual events, popular foods, architecture and top sports teams. ChicagoTraveler.com guides travelers to all the best things to do, top places to eat and deals on the best places in Chicago to stay.