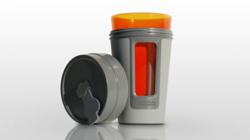 The idea came to me one day when I was mixing a protein shake. It was already mixed in a glass when I realized I had to run out the door
Seattle, Washington (PRWEB) December 07, 2012
A new product called Geode is making its way into your drinking glass cupboard, into your car and anywhere else on the go. The product is a, spill proof, protective case that seals in a traditional 16 oz. pint glass, giving the user a new convenient way to travel with their favorite beverage.
A geode is defined as a volcanic rock structure, rough on the outside but on the inside, revealing a colorful array of crystals. Industrial Drinkware's glasses come in a variety of colors along with a grey protective container made from durable, light weight plastics. In addition, the protective container is also made with soft silicon on the outside, providing for a sure, comfortable grip. Geode can serve both hot and cold beverages.
"The idea came to me one day when I was mixing a protein shake. It was already mixed in a glass when I realized I had to run out the door. I thought to myself, it would be ideal to simply put a lid on my glass and go" says Industrial Drinkware founder and CEO, Ryan Savage.
The company also wants to remind consumers of the potential health risks that exist from drinking out of plastic bottles. Along with BPA, other harmful chemicals are generally used to produce plastic drinking bottles and other portable, plastic drinking containers. Geode effectively eliminates those risks by offering the alternative to drink directly from a healthier glass. Savage also mentions the cleanliness of a glass in comparison with a plastic cup. "I had a clean plastic bottle I had just washed, but it still reeked of the spoiled protein shake from the last time I used the cup" says Savage.
Industrial Drinkware's core value is to provide consumers with a durable product, that's innovative, convenient with the added perk of being a healthier alternative.
The company has been getting notoriety through the website, Kickstarter.com which allows new, ambitious, startups to enlist interested investors to help fund their product development. Industrial Drinkware is continuing to utilize the website for additional product funding where the company has already achieved over 100 investment opportunities.
For more information about Industrial Drinkware, visit http://industrialdrinkware.com/ and http://www.kickstarter.com/projects/254536584/geode-glassware-made-portable