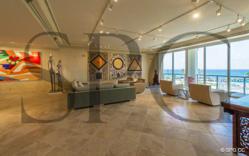 "Bellaria is a fantastic building," said Dr. Mandel. "It is well maintained and a great place to live."
Palm Beach, Florida (PRWEB) December 07, 2012
Art Basel Miami Beach is the talk of the town this week and the perfect time to announce our featured listing, Bellaria Residence 504. Dr. Sam Mandel and his wife Annette are the owners of this exquisite luxury oceanfront condominium, located in Palm Beach.
The Mandels are well-known art collectors with a unique contemporary collection of art by an assortment of artists such as Larry Rivers and Tom Wesselmann.
"The condominium was designed to display this particular part of our art collection," said Dr. Mandel. "I worked with a designer to come up with specific ways to create a floor plan to show the art off."
The entrance way was designed to display some of the art and then opens out to the rest of the condominium where additional pieces are found. The luxury residence has 11' ceilings and an expansive dining and living room area that was designed specifically for large paintings.
"I had a special coating put on the windows to protect the art from ultra violet light," Dr. Mandel said. "You aren't able to see the coating on the window but it's strong enough to protect the paintings and sculptures."
The condo is a superb location for this unique installation, which is just a portion of the Mandel Collection. The ocean view is the perfect back drop for this magnificent home.
This 3 bedroom, 3.5 bath, 3,808 interior square ft. luxury residence is an ideal home for any art collector. Bellaria Residence 504 has unique soffits that accommodate extensive lighting throughout the luxury oceanfront condominium perfectly positioned to accentuate the art throughout the home, where the art of man meets the art of nature.
This fabulous oceanfront residence doesn't include the magnificent art in the purchase price, but the photos and video give the viewer an idea of how an art collection will look when it's installed. This luxury residence has been finished with elegant surfaces, rare stones and meticulous attention to detail.
Bellaria is Palm Beach's newest luxury oceanfront building. Residents enjoy a pampered lifestyle with security controlled private access elevators, concierge services, full beach and pool service, state-of-the-art fitness facilities, movie theatre, billiards room and 2 tennis courts.