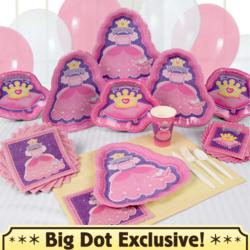 We want the Mommy-To-Be to feel like a princess whether she's a member of the royal family or not. ~Sherri Yukel, Founder and President
Menomonie, WI (PRWEB) December 08, 2012
With BigDotofHappiness.com's newly expanded collection of DIY baby shower decorations, shaped tableware and unique party supplies, party planners can celebrate royal announcements with ease… and lots of well-coordinated flair!
"Party planners are constantly looking for trendy, one-of-a-kind ways to make baby showers fun and memorable," says Sherri Yukel, founder and president of all Big Dot Shops. "A princess baby shower theme is a classic way to celebrate baby girls, and the recent announcement of the royal baby will make princess parties even more popular."
To address the growing demand for perfectly coordinated, themed celebrations, Big Dot of Happiness recently added a selection of easy-to-use containers, stands and other DIY items to help Hostess Heroes plan every detail of their party. From rock star parties to pretty princess parties, hostesses can now customize their party spaces even more.
"We love helping party planners find just what they need for their special celebrations, no matter what their theme is," says Yukel. "Whether a customer is looking for sturdy containers to package homemade 'fairy dust' favors or stickers to decorate homemade 'wands' – two popular ideas for princess baby showers – we want to make sure our selection of DIY decorations has what they need."
Big Dot of Happiness also offers a line of uniquely shaped princess tableware for Hostess Heroes who want their party tables to match their décor. Designed specifically to match their princess theme, these paper plates, napkins and cups are a practical way for hostesses to incorporate even more eye-catching details into their party space while addressing the need for tableware during a meal.
"We want the Mommy-To-Be to feel like a princess whether she's a member of the royal family or not," says Yukel," and our princess-themed tableware, favors and other decorations help party planners accomplish that with ease – and plenty of unique style."
Big Dot of Happiness, LLC, is an event party company and the originator of various games, invitations and themed party supply products called "Big Dot Originals." With personalized invitations, impressive party favors and unique party decorations, Big Dot of Happiness, LLC, makes every day parties into extraordinary events. Making life's occasions fun. It's about time. "We create remarkable smiles by embracing a remarkable culture."
Contact:
PR Coordinator
Big Dot of Happiness, LLC
1.800.274.4282