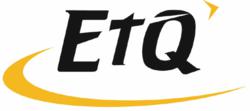 With compliance evolving within the Food and Beverage industry, the market has been driven to a new benchmark on quality and compliance—Risk Management is fast becoming this benchmark
Farmingdale, NY (PRWEB) December 07, 2012
EtQ is pleased to announce that it will be presenting its webinar "Risk Management in Food Safety Systems: The Risk and Compliance Paradigm" on December 11 at 12:00pm ET.
This webinar will be led by Tim Lozier, product strategy manager at EtQ, and Melanie Neumann, senior director at Leavitt Partners'. It will discuss:

How monitoring risk has become a key component of compliance programs
Overview of Risk Assessment and Management processes and terminology
How complex markets have turned to risk-based methodologies as a benchmarking tool for compliance
Where to assess risk through the supply chain
"With compliance evolving within the Food and Beverage industry, the market has been driven to a new benchmark on quality and compliance—Risk Management is fast becoming this benchmark," stated Lozier. "This webinar will explore the strategy behind Risk in compliance and define the various terms associated with Risk. We will also discuss how Risk has helped shaped compliance within the Food and Beverage industry, and how organizations are using Risk methods to influence food safety compliance today."
For more information or to register for this complimentary webinar, go to http://www.etq.com/webinar.
Celebrating 20 Years of Excellence
Founded on March 4, 1992 by former lead auditors of Underwriters Laboratories, EtQ has always had a unique knowledge of compliance processes related to Food Safety, Quality, and Environmental Health and Safety (EHS) Management. This year, EtQ celebrates 20 years of excellence and continues to be the leading Food Safety, EHS, Quality and Compliance solution provider for identifying, mitigating and preventing high-risk events through integration, automation and collaboration. EtQ encompasses a wide variety of industries, providing solutions for Food and Beverage, EHS, Aviation Safety, Quality, and Life Sciences. EtQ uses best in class integrated modules and enterprise application integration to manage and measure these compliance processes and execute organizational change. EtQ's solution, Reliance, is an enterprise suite of modules designed to foster operational excellence in businesses with modules and utilities such as HACCP, Supplier Rating, Risk Management, CAPA, Document Control, Employee Training, Customer Complaints, Audits, and many more. EtQ has been providing software solutions to a variety of markets for 20 years. For more information, please visit http://www.etq.com.