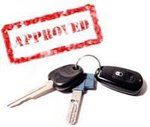 Greenville, SC (PRWEB) December 06, 2012
The grand opening of the new company, CarLoansSearch.com, went off with a bang today. Applications poured in from all over the nation as customers happily applied for their auto credit needs right from their homes.
The company is an auto loan finder business that boasts they can find anyone an auto loan no matter their credit history, be it bad credit or no credit at all. "We understand the great need that is out there. Folks need a company that will accept everyone, even those who have made a few financial mistakes in the past," says Car Loans Search's general manager.
Borrowers visiting the site were thrilled to find that the company offers a guarantee of 100% acceptance to all who apply. Not one applicant was turned away or denied, even those who had filed bankruptcy or defaulted on past credit.
The process is simple and easy, anyone can complete an application in just a few short minutes. Applications for an auto loan may be filled out at http://carloanssearch.com/apply-now/.
The financial experts working for Car Loans Search work tirelessly to match each applicant to their ideal car loan. The company's CEO, David Anderson, stated that the business feels each person's situation is entirely different and therefore should not be considered or counted out simply because they did not fit adequately into the boxes in the application form. Because of this Car Loans Search dedicates themselves to helping those who are less likely to be accepted elsewhere receive acceptance through their application system.
About Car Loans Search
Car Loans Search is the #1 provider of national and local auto loans. Our approval process is fast! We understand that it can be embarrassing and frustrating to not be able to qualify for a car loan or student auto loan that would enable you to purchase the proper vehicle for you or your family. The approval process starts with the car lender. We provide people with the best auto lender network. Get approved for an auto loan fast! Drive your dream car home. Car Loans Search will never turn anyone down.