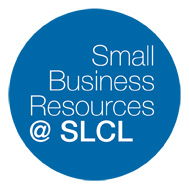 St. Louis, MO (PRWEB) December 10, 2012
St. Louis County Library is hosting a Small Business Expo on Friday, December 14 from 1:30 to 4:30 p.m. Attendees will have the opportunity to network with other small business owners, visit with local support agencies and learn more about the resources available at the library. The event will take place at St. Louis County Library Headquarters, 1640 S. Lindbergh Blvd in Ladue.
Participating agencies include: MU Extension, Women's Impact Networking, Small Business Majority, Missouri Venture Forum, Small Business Administration, West County Chamber of Commerce, St. Louis Community College of Continuing Education and St. Louis County Economic Council Enterprise Centers.
Whether you are already a small business owner or are thinking about starting a business, this event will open your eyes to the organizations and resources available to help you.
The Small Business Expo is part of a new initiative by SLCL to provide tools and resources to small business owners. A lecture series will be offered in 2013 covering topics including marketing basics, tax accounting, health reform and more.
To learn more about the Small Business Expo or the Mind Your Business Lecture Series, please call 314-994-3300 or visit http://www.slcl.org.