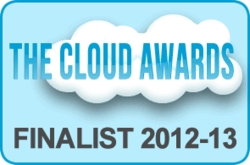 Cary, NC (PRWEB) December 11, 2012
StrikeIron, the cloud leader in data quality and data communications solutions, has been named a finalist in the 2012-2013 Cloud Awards Program in the category Web Services Excellence.
Previously, the international cloud computing awards named StrikeIron the winner of Best Cloud Infrastructure and Cloud Computing Company of the Year.
The Cloud Awards identify and celebrate excellence in the field of cloud computing. The awards program accepts entries from organizations of any size – from large enterprises to start-ups – in the US and internationally.
Sean O'Leary, CEO of StrikeIron, said: "In an increasingly mature market, we are proud for StrikeIron to once again be named a finalist in the Cloud Awards program."
Cloud Awards organizer Larry Johnson said: "The standard of entries this year was truly incredible – and we're still scratching the surface of what the cloud is capable of."
"Efficiency, agility and an ability to leverage all of the positive attributes of cloud technologies are what set the organizations in this shortlist apart from any other."
Nearly 200 organizations entered, with entries coming from across the globe and including Europe, the US and Middle East. Final winners will be announced on Tuesday 15 January.
The Cloud Awards (cloud-awards.com/) will return in 2012-13 for a fresh program seeking excellence in the field of cloud computing.
Full shortlist:
Web Services Excellence

StrikeIron
Riverbed Technology
DocuSign
Sonian
About the Cloud Awards:
The Cloud Awards is a premier international cloud computing awards program which recognizes and honours industry leaders, innovators and organizational transformation in cloud computing. The awards are open to large, small, established and start-up organizations, to find and celebrate the pioneers that will shape the future of the industry as we move into 2013 and beyond. Categories range from the Software as a Service award to Most Promising Start-Up. Finalists were selected by a panel of international industry experts. For more information about the Cloud Awards please visit cloud-awards.com/.
About StrikeIron:
StrikeIron is the leader in Data-as-a-Service (DaaS), delivering data quality and communications solutions via our cloud platform IronCloud. We provide email verification, address verification, phone validation, phone/address/email append, SMS text messaging, and sales tax solutions to customers in a variety of markets. Our solutions are delivered as Web services that can be easily integrated into any application or system. Additionally, our solutions are pre-integrated into leading platforms like: Magento, Marketo, Eloqua, Salesforce.com, Informatica, Oracle CRM On-Demand and more. Visit us on the web at http://www.strikeiron.com.