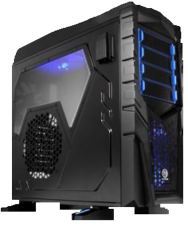 One of the fastest Windows 8 machines to ever hit the market
Montreal, Quebec (PRWEB) December 06, 2012
Gaming PC, a leading company providing high quality customized gaming computers, announces the debut of their newest type of gaming computer, "The Beast" equipped with the latest Windows 8 operating system and an Intel Core i7 3930k Six Core overclocked at 4.6 GHz.
"The Beast was built with advanced and modernized services to ensure an amazing gaming experience for its users," said owner of Gaming PC. Game fanatics can be entertained more with its high performance machine, latest operating system and the fastest hardware ever.
Gaming PC features computer parts put together to create "The Beast". Essentially, a Motherboard Asus Rampage IV Extreme and a memory G.Skills Ripjaws X 64GB. Additionally, it has a 2 X Nvidia GeForce GTX 690 4GB Dual GPU SLI Video Card and a Primary Hard Drive which is Intel 520 series 240GB 2.5IN Solid State Drive. For additional storage, it features a secondary hard drive of Western Digital hard drive 2 terabytes black. "Indeed, game enthusiast will have hours of fun and entertainment with the The Beast".
Gaming PC founded in 1998, have provided high quality overclocked computers throughout North America. Currently the top supplier for watercooled gaming computers in Canada for 2012. You can find out more at GamingPC.