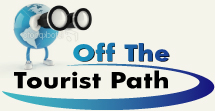 The world is a book and those who do not travel read only one page.
- St. Augustine
Calgary, Alberta Canada (PRWEB) December 11, 2012
Off The Tourist Path launched a new website showing travellers feedback about off the beaten path places.
Special spots for snorkelling, one-of-a-kind restaurants, deserted beaches, and hiking trails where you won't run into groups of tourists are all reviewed and rated by travellers who like vacations off the overcrowded tourist sites.
"The idea for this website came when I was on a 10-hour road trip with my wife to Yellowstone Park. We travel quite a lot and we like to get off the beaten path on vacations," said Jean Comeau, founder of Off The Tourist Path.
"My wife and I have travelled in every continent and we just love to find spots off the beaten path on vacations. These spots are hard to find since they're not advertised as much as the tourist traps. But we haven't let that stop us and have found beaches like deserted islands, nice wineries, amazing waterfalls, cozy restaurants, and so much more."
"While we were driving to Yellowstone, I told my wife I wished there was a website that would provide users with ideas for off the beaten path vacations. As I'm a web designer, my wife asked me why I didn't make one. That's how the idea for this website was born!" said Jean Comeau.
Whether travellers are looking for unique shopping, a hidden gem of a bookstore, a cool bar, or a castle, they're guaranteed a more exciting, authentic experience when they travel off the tourist path.
Travellers interested in learning more about Off The Tourist Path reviews can visit http://www.offthetouristpath.com.