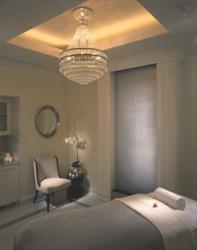 Dana Point, Calif. (PRWEB) December 08, 2012
Celebrate the most romantic day of the year with his, hers and ours Sweetheart Specials in The Ritz-Carlton Spa, Laguna Niguel. Offered in celebration of Valentine's Day, each experience includes Pomegranate Champagne with an optional Sunset Toast, hand-crafted chocolates from Executive Pastry Chef Brian Sundeen and, more importantly, a romantic memory that will last a lifetime.
Sweetheart Specials are available Thursday, February 14 through Sunday, February 17, 2013.
The "His Sweetheart Experience" includes a 30-minute Gentlemen's Pomegranate Hot Towel Facial that is followed by a 60-minute Champagne Massage. His experience is $400 USD.
The "Hers Sweetheart Experience" begins with a 30-minute Ritz-Carlton Pomegranate Facial that is followed by a 60-minute Champagne Massage. Hers Experience is $400 USD.
The "Ours Sweetheart Experience" for couples features a 60-minute Couple's Champagne Massage accompanied by the Scent-u-al Ritual.
During the Scentual Ritual the couple will create a signature scent potion by blending essential oils that are sure to spark romance. The couple will create the blend from five different scents including sandalwood, an earthy aphrodisiac fragrance that is grounding and soothing to the nervous system, ylang ylang, known to be uplifting to the spirit, patchouli, a powerful aphrodisiac fragrance that provides a touch of balminess that induces a deep sense of relaxation, lavender, which balances the ying and yang energies to create a purifying fragrance, and grapefruit, a refreshing aphrodisiac fragrance that reduce inhibitions and create a feeling of euphoria and self- confidence. The Scentual potion is incorporated into the Ours Sweetheart Experience, and a small bottle of the oil is provided for the couple to enjoy at home. The 60-minute Ours Experience is $550. A 90-minute "Ours Sweetheart Special" is available for $700 USD.
Guests can unwind and escape to a gentler pace at The Ritz-Carlton Spa, Laguna Niguel. The constant presence of the ocean inspires renewal, rejuvenation and relaxation. All 12 treatment rooms are bathed in soft hues of aqua and beige, including an oversized treatment room which is perfect for couples' massages as well as bridal parties. An outdoor gazebo also hosts early morning yoga and Pilates while the resort's concierge can organize hikes along the bluff.
# # #
The Ritz-Carlton, Laguna Niguel premiered as the first luxury resort along coastal Orange County in August 1984. Today, the resort is a re-imagined surfside retreat that awakens guests' senses with its unique ocean-front setting and remarkable service heritage. The resort is the premiere destination for travelers who desire a playful approach to Southern California luxury. The resort offers many extraordinary luxury experiences including Raya, enoSTEAK, 180blũ, The Market Place, and Bar Raya. For more information or reservations call 800-241-3333, the hotel directly at 949-240-2000, a travel professional or visit the web site at http://www.ritzcarlton.com/LagunaSpa
The Ritz-Carlton Hotel Company, L.L.C. of Chevy Chase, Md., currently operates 80 hotels in the Americas, Europe, Asia, the Middle East, Africa, and the Caribbean. More than 30 hotel and residential projects are under development around the globe. The Ritz-Carlton is the only service company to have twice earned the prestigious Malcolm Baldrige National Quality Award which recognizes outstanding customer service. For more information, or reservations, contact a travel professional, call toll free in the U.S. 1-800-241-3333, or visit the company website at http://www.ritzcarlton.com. The Ritz-Carlton Hotel Company, L.L.C. is a wholly owned subsidiary of Marriott International, Inc. (NYSE: MAR)