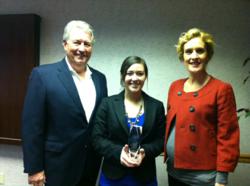 Having a dedicated marketing staff at WMG brings a whole new level of expertise to all of our clients.
Indianapolis, IN (PRWEB) December 11, 2012
The Ward Management Group (WMG) won the Innovative Marketing Campaign award for their work with the Digital Pathology Association (DPA) at the 11th Annual STAR Awards. The STAR Awards are hosted by the Indiana Society of Association Executives (ISAE) each year to recognize and celebrate the accomplishments of Indiana's association industry and the individuals who help make the industry a success.
WMG has been a member of ISAE for over 20 years and AMCI Accredited for three years. "Receiving an award from your peers is always special. Receiving this award from the association community and having it presented by a prestigious organization like the ISAE is extraordinary," said Michael F. Ward, CAE, President and CEO of WMG. "I am grateful that our efforts have been recognized and humbled that our peers felt our work was worthy of this award."
The Innovative Marketing Campaign award that WMG received recognized their work for the Digital Pathology Association (DPA), a non-profit organization that promotes education and awareness of digital pathology applications. The marketing campaign they created for the DPA blended print, online, and mobile medias to raise maximum awareness for the DPA and their annual conference, Pathology Visions.
From press releases and print ads to a mobile app and e-mail blasts, WMG wanted to make sure their content was diverse and engaging, while their messages were targeted to professionals in the digital pathology industry. Each piece of the campaign tied into the branding of the DPA's recently redesigned and reorganized website.
"Having a dedicated marketing staff at WMG brings a whole new level of expertise to our company," said Ward. "I am eager to bring this standard of marketing to all of our clients."
The 11th Annual STAR Awards were held on, Thursday, December 6, 2012 at the Dallara IndyCar Factory in Indianapolis. For more information about WMG and the other association management services it provides, please visit their website.
About Ward Management Group
Ward Management Group was established in 1992 and is located in Indianapolis, IN. Its primary purpose is to facilitate the association of friends, allies, and partners in the mutual interest of the organized body and its members. Their goal is simply to create an environment wherein the members of an association or society can become better for having been a part of something larger than their individual world. Their management style emphasizes the people of an association and focuses on the quality of service. To learn more about WMG and its services visit their website.