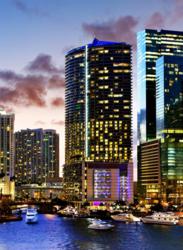 (PRWEB) December 07, 2012
The expanding Haute Hotel Network is pleased to include EPIC, a Kimpton Hotel, as an exclusive partner. A premier luxury hotel in Miami, EPIC is a sparkling cosmopolitan destination on the bank of the Miami River where it meets Biscayne Bay. This boutique hotel epitomizes urban design while offering guests an unmatched level of style and service. True to its name, they do everything on a grand scale with an authenticity that attracts travelers from around the globe.
Across the river from famed Brickell Avenue, this downtown waterfront Miami hotel puts you in the financial and cultural hub of South Florida and near a bevy of boutiques, top-rated restaurants and entertainment venues. EPIC provides a distinctive lifestyle experience from its personalized service and attention, style and design, to its top-rated, celeb-sited pool deck and restaurants, exclusive Club Level and Exhale spa. With sweeping views of the Miami skyline, the Miami River and Biscayne Bay, the hotel has a distinctive waterfront location. Whether you arrive via their palm-lined front drive or along the waters directly to the hotel's private marina, you can expect a warm and memorable welcome.
About Haute Hotel Network
The Haute Hotel Network is an exclusive, invitation – only membership circle featuring a limited number of hotels and resorts from each of the top U.S. and international markets. Haute Living Network connects affluent audience with the luxury lodging and hospitality establishments selected as the finest in their specific region. Invitations to the Haute Hotel Network are only extended to hotels and resorts with exceptional amenities and a proven service record that meets only the highest standards. To learn more about the Haute Hotel Network, or view any of our amazing hotel properties follow this link: http://www.hautehotel.com/
About Epic:
A member of the award-winning San Francisco-based Kimpton Hotels & Restaurants, EPIC is a distinctive, luxury waterfront hotel located at the epicenter of it all. A true cosmopolitan resort that lives up to its name, EPIC, A Kimpton Hotel, combines Miami's unique international vibe and energy, with exclusive amenities such as a 16th floor roof-top pool deck, a marina, top-rated restaurants, and Exhale spa. EPIC's 411 rooms and suites convey an understated sense of cool, and all feature private balconies that provide inspiring views of the city and bay. The hotel is set to complete an expansion to its meeting and special event space in February 2013, which will soon feature 15 meeting rooms and total approximately 50,000 sq. ft. EPIC is located within walking distance to the American Airlines Arena and just a short distance from area beaches, local shopping districts, restaurants, and a thriving arts and culture scene.
To Learn More: Visit the EPIC Haute Hotel Profile. http://www.hautehotel.com/hotel/epic-a-kimpton-hotel/
For more information, please call (866) 760-3742 or (305) 424-5226 or visit http://www.epichotel.com. Become a fan of the EPIC Facebook page by visiting http://www.facebook.com/EPICHotel or follow us on Twitter @KimptonInFL.