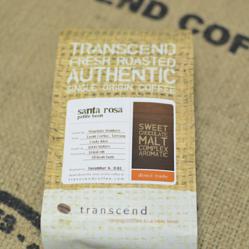 The abundance of cheap and free offers from the fast food chains do an incredible disservice to the farmers who grow coffee.
Edmonton, Alberta, Canada (PRWEB) December 12, 2012
"The abundance of cheap and free offers from the fast food chains - like McDonald's $7 bag of coffee and Tim Horton's $1 latte do an incredible disservice to the farmers who grow coffee," says Poul Mark, founder of Transcend Coffee. "It also creates false assumptions in consumers' minds about the cost and value of coffee."
Edmonton's Transcend Coffee has built a strong local reputation doing the opposite: charging customers a fair price for high quality coffee that includes a sustainable amount for the farmers who grow the coffee. For high-end coffee, that price can be quite a bit more than many customers are used to paying. Last month Transcend released its Santa Rosa petite bean, from Costa Rica at a price of $10 per cup in its cafes or $35 for a 12 oz bag on its online store http://www.transcendcoffee.ca.
"We are after the most amazing tasting coffee we can find," says Mark. That means making several sourcing trips each year, where Mark or one of his team travels to the countries where coffee is grown. On these trips, Mark will taste many different coffees, meet directly with farmers and settle on a truly fair price that adequately rewards the farmers that put in extra care and attention to make sure their coffees stand out from the crowd.
Starbucks has for the past number of years been battling with McDonald's and Tim Horton's to be the ubiquitous coffee provider of the masses. Recently though they have made moves to position themselves into a higher-end market, announcing a $7 cup of coffee and a $450 etched steel gift card. "These are marketing experiments Starbucks is conducting to see if they can get out of the cheap coffee war they have found themselves in," says Mark. "Perhaps they are beginning to realize how destructive it is."
While Santa Rosa is the highest priced coffee Transcend has at the moment, they will continue to roast and offer high-end coffees, like Sin Limites, also from Costa Rica, released this week for $21 per bag. "There is an appetite for truly outstanding coffee," Mark says, "Especially at Christmas time. People want a special treat to give to family and friends, or for entertaining." Transcend will also continue to offer coffees priced in the mid-range, around $18 per 12 oz bag for everyday coffee drinking, but you can expect to see more $20 to $30-plus high-end coffees from the trail-blazing Edmonton roaster.