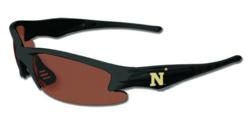 (PRWEB) December 07, 2012
Maxx HD® Sunglasses announced today the release of their United States Naval Academy eye-wear collection. These USNA® insignia high definition sunglasses allow United States Naval Academy fans to express their school spirit and share in the excitement and strong tradition of the USNA® Goats, while protecting their eyes.
"The Maxx HD® team is extremely proud of the entire United States Naval Academy product line," stated Chana Kolman MAXX PR Director. "We believe that with four different styles we will appeal to both men and women. We are positive USNA fans will love cheering on Bill the Goat® while sporting our USNA® shades."
The United States Naval Academy collegiate sunglasses are proudly offered in the MAXX HD® Dynasty and Retro styles in both black and white. The entire line of USNA® sunglasses are highlighted with the University's N-Star on the arm and are offered in the schools vibrant blue and gold colors.
The USNA® line will be available in retail outlets as well as on the company's website at http://www.maxxsunglasses.com