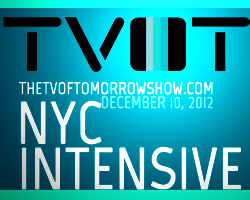 NEW YORK, NY (PRWEB) December 07, 2012
InteractiveTV Today, the most widely read and trusted news source on multiplatform and interactive television, will hold its third annual TVOT NYC Intensive, the New York version of its famous San Francisco-based TV of Tomorrow Show (TVOT), on Monday, December 10th at 730 Third Avenue.
TVOT Intensive--which features three intensive tracks, more than 130 expert speakers, and multiple exhibits of the latest interactive, multiplatform and social-TV technologies--will once again deliver timely keynote presentations, discussions and debates about the ideas, technologies, trends and market factors that are shaping television's future. The show's agenda can be viewed in full here. Panel sessions on the agenda include:

Tcommerce on the Cusp
Measuring the Multiplatform Viewer: Challenges and Solutions
Audiences Are Active: The Ever-Evolving Relationship between Content, Advertiser and Audience
The Top 10 Things We Learned from the 2012 Olympics
Beyond the Screen: Envisioning the TV UX of Tomorrow
Second-Screen Content: Have We Created a Monster?
Hard Questions: Are Advanced-TV Advertising Platforms Addressing the Needs of Brands?
TV's New Gateway? How the Second Screen Is Changing our Relationship with Television
Getting in Sync: What's Next for Second-Screen Technology?
Smart Programming: The Growing Business of Connected-TV Content
Connected-TV Apps: A New Medium?
Content-Discovery Showdown
Media/Tech Investment Trends for 2013
ACR Enabling TV 2.0: Will the Smart TV Finally Come into its Own?
Envisioning the Cable of Tomorrow
Everything You Need to Know, But Were Afraid to Ask, about Why Some Brands Embrace Interactive TV and Others Don't
Will Rich, Interactive Media Transform Television?
An Old Dog Learns New Tricks: The Evolution of Cable Advertising
Enabling Interoperability: New Developments in Advanced-TV Standards
The event also features:

Dr. Duane Varan, Chief Research Officer and Executive Director of the Disney Media & Advertising Lab, and Professor and Executive Director of the Audience Research Labs at Murdoch University, unveiling new, lab-based studies exploring the utility of today's new advertising models.
Ron Pessner, Group Program Manager of Microsoft's Interactive Entertainment Business, and Microsoft Media Strategy Advisor, Gerard Kunkel, leading a Q&A session on Microsoft's plans to use its new SmartGlass platform as a technology for second-screen interactive TV.
Anthony Rose, Founder and CTO of high-profile UK second-screen ITV company, zeebox, discussing that company's ongoing move into the US.
In addition, it offers master classes and workshops from leading advanced/interactive TV companies and broadcasters, such as:

Ensequence
Viaccess-Orca
Watchwith and Syfy
Digitalsmiths
Xstream
"Our TVOT shows are unique in that we develop our agenda through an exhaustive dialog process with our readership and the advanced/interactive-TV industry at large," says [itvt] editor-in-chief, Tracy Swedlow. "It's a painstaking process, but it allows us to develop a show agenda that truly reflects what's happening in interactive/advanced TV today, and to address the topics that will be of most importance to the industry going forward."
TVOT NYC Intensive also sees the return of [itvt]'s annual Holiday Party, sponsored by Extreme Reach; the party is widely recognized as one of the advanced-TV industry's best venues for networking. In addition, the Interactive Advertising Bureau (IAB) is co-locating a Town Hall on OTT Interactive TV at the show, providing attendees with an unparalleled opportunity to network with--and get on the radars of--a focused group of advertising-industry professionals who have been selected by the IAB because of their interest in advanced/interactive TV. While the IAB Town Hall, which kicks off at 4:00PM, is invitation-only, TVOT NYC Intensive attendees will be able to attend it on a first-come-first-served basis if seats are available.
TVOT Intensive sponsors include: Softel, PayPal, Ensequence, Rovi, Viaccess-Orca, HSN, the IAB, Digitalsmiths, Extreme Reach, Trailer Park, ConnecTV, A Different Engine, Veveo, wywy, Xstream, Kantar Media, Magic Ruby, Watchwith, ThinkAnalytics, Audible Magic, comScore, Bemis Balkind, Ember Media, the Open IPTV Forum, and Breakaway Communications.
Feedback from the TVOT San Francisco 2012can be found here.
To read additional feedback from past attendees, click here.
To register for the event, click here.
Follow TVOT on Twitter at @TVOTshow; the Twitter hash tag for TVOT is #TVOTNYC
Read more about TVOT: http://www.thetvoftomorrowshow.com
###
About Interactive TV Today:
Founded in 1998 by Tracy Swedlow, Interactive TV Today [itvt] is the most widely read and trusted news source on the rapidly emerging medium of multiplatform, interactive television (ITV). We provide concise, original coverage of industry developments, technologies, content projects, and the people building the business to our readership, which is made up of hundreds of thousands of executives from around the world.
For further sponsorship information or speaking opportunities, please contact:
Tracy Swedlow
CEO, Editor-in-Chief and Executive Producer of TVOT
Swedlow(at)itvt(dot)com
415 824 5806
For media relations inquiries, please contact:
Tracey Sheehy
Breakaway Communications for TVOT
Tsheehy(at)breakawaycom(dot)com
212 616 6003