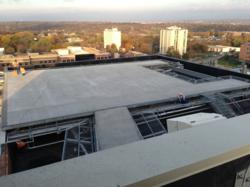 Kirberg was very proud to be a part of such a project, and to provide an effective solution for the University of Kansas Hospital
St. Louis, MO (PRWEB) December 11, 2012
Kirberg Company, one of the Midwest's largest commercial roofing contractors and residential roofing companies, has completed yet another high-profile roofing job, helping the University of Kansas Hospital to complete a helipad addition above the sixth floor of their building. The helipad addition will provide a clearly marked, hard surface for hospital helicopters to land on, making it easier to get patients into the emergency room. Kirberg's Kansas City commercial roofing team constructed the roof under the helipad, using Carlisle Fleece Back EPDM, installed with Fast 100 Adhesive.
The University of Kansas Hospital, located at 3901 Rainbow Blvd in Kansas City, Kansas, is the area's only nationally verified Level 1 Trauma Center and Burn Center. The hospital already had two helipads, prior to their latest project. A third helipad was required to handle a higher weight capacity, up to 30,000 lbs, allowing for military helicopters and even the President of the United States.
"Kirberg was very proud to be a part of such a project, and to provide an effective solution for the University of Kansas Hospital," said Eric Kirberg, President of Kirberg Company. "We always have our clients' best interests in mind, as well as the know-how to provide an innovative solution, and that's why they come to us with their roofing needs."
The roof area is 10,200 square feet, and it took Kirberg approximately two weeks to complete the roofing portion, two weeks ahead of schedule.
For more information about Kirberg Company, visit http://kirberg.com.
About Kirberg Company
Kirberg Company is a professional roofing and related services contractor established in 1920, with extensive experience in residential and commercial roofing of all types. Kirberg Company is based in St. Louis with satellite offices throughout Missouri and Kansas. As a founding member of RoofConnect, the premier nationwide professional contractor network, Kirberg Company can serve roofing needs anywhere in the U.S. For more information on Kirberg call toll-free at 1-866-547-2374 or visit their website at Kirberg.com.