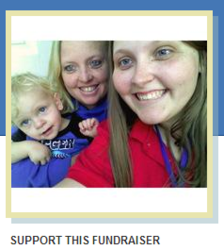 Despite being on the transplant list, there is no telling how long she will have to wait until a kidney becomes available.
Miami, Fl (PRWEB) December 08, 2012
The Holiday Season is a special time to reflect and focus on the things and the people we are most thankful for. For many, their own health and the wellbeing of those around them are of the upmost importance. Having those things in tact often means much more than receiving a grand holiday present.
Unfortunately, this holiday season has not been so kind to everyone. Cindy Suzanne Hood and her family are in great need this year. 9 years ago, Cindy received a kidney transplant after becoming aware that her kidneys were failing her as she turned 30. As a young woman, Cindy had to bravely fight to improve her life and move forward. Today, Cindy is faced with a difficult situation. The cadaver kidney she received 9 years ago is now failing her.
Cindy is a single mother looking after her 17-year-old daughter, Alexis, and her beautiful 1-year-old grandson, Ethan. Cindy spends 4 hours on dialysis 3 times a week. The emotional and physical impact of this process coupled with the time commitment, has made it impossible for Cindy to look after the ones she cares about the most. This time more than ever, she cannot afford to be this sick.
One of Cindy's closest friends said:
"To make matters worse, she lives in a rough neighborhood—the only place she can afford right now. Her family desperately needs to move into an environment that is more suitable for raising young children while Cindy patiently awaits a new kidney. Despite being on the transplant list, there is no telling how long she will have to wait until a kidney becomes available. Right now she needs emotional support along with monetary support. Her family, including her mother who adopted Cindy when she was only a toddler and living in an abusive household, are doing all they can do to make sure to get Cindy back on her feet. They have started a campaign to raise money for Cindy, Alexis, and little Ethan. Please consider contributing anything you can spare. This family could benefit tremendously from any and all kind gestures. As a family friend, I donated what I could and now I am doing all I can to help her out. I am spreading the word about her campaign and I am hoping you will, too! This holiday season, we are hoping you will find it in your heart to express your gratitude by helping someone in need. This December, let's work together to give the gift of health and life to a dear family who desperately deserves it."
To donate to Cindy and her family, please visit http://www.giveforward.com/cynthiasuzannekidneytransplant?utm_source=giveforward&utm_medium=email&utm_campaign=supporter_invite&hid=760223&cid=1158014 .