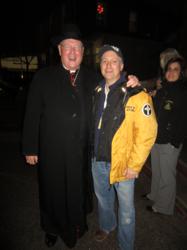 I am very blessed to be able to be of service to my community and consider it an honor and privilege to do so.
Staten Island, NY (PRWEB) December 10, 2012
Goodfellas Brick Oven Pizza: Marc Cosentino a veteran NYPD Sergeant, member of the Screen Actors Guild and author of ROUTINE PATROL the Forgotten Borough, has been working tirelessly with relief efforts since Hurricane Sandy made landfall over a month ago.
Along with his brother Scot at Goodfella's Pizza on Hylan Boulevard Staten Island and numerous volunteers from such diverse groups as Retired New York Police Department, Fire Department, Occupy Sandy, Church of Scientology, The Pentecostal Church, St. Margaret Mary's, The Marine Corp League, VFW, The Hallowed Sons Motor Cycle Club, Veterans, business owners and volunteers from all over the country they have been providing food, shelter, gutting houses and general clean up across the South Shore of Staten Island for the past month.
"The relief effort has been incredible with people from all walks of life dropping everything to help in any way possible" said Scot. The saying Staten Island Strong has become quite popular and evident by the reaction and will power of the local people to overcome the devastation of Hurricane Sandy. "Every day I hear someone say "It is amazing how the people on Staten Island take care of themselves and the sense of community is fantastic", said Reverend Carlo of the Pentecostal Church on Richmond road which has been feeding people and providing supplies daily for Hurricane affected islanders.
"I really like the people of Staten Island and continue to be impressed by them and their resilience" said Kieram Litchfield an EMT and Disaster Responder for the Churches of Scientology Disaster Response from Florida who has also volunteered at many disasters including hurricanes, earthquakes, tornados and the 2011 Tsunami in Japan.
"Of all the disasters I've worked at, the people of Staten Island have been the most active in getting each other and the community as a whole through the disaster", he continues.
About Goodfella's Brick Oven Pizza:
Famous NY Brick Oven Pizza and Pasta restaurant. 3x International Pizza Expo champions. Favorite of Rudy Giuliani who wagered the Vodka Pie on the Yankees winning the series. They were also the wager on the Giants when they beat the Patriots in the Super bowl. The pride of Staten Island with incredible fresh home made ingredients cooked in a wood burning brick oven.