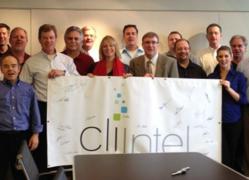 When companies allow their employees' passion to fuel the outreach efforts, it's a win-win.
Denver, CO (PRWEB) December 13, 2012
Bill Clanton, President of SBALoansToday.com, thinks the best way to get people excited about giving back and being involved in their own communities is to share stories about companies doing just that. With their recent call for success stories, SBALoansToday.com found CliIntel.
CliIntel is known for helping cable, telco and utilities companies improve revenue generating operations through business intelligence methodologies. Formerly BATMANN Analytics, the company is headquartered in the Denver Tech Center and has been growing and expanding since 1997, beginning with just 2 employees. The company currently employs 36 and continues to grow.
Recently, in support of one of their fellow employees, CliIntel got in the spirit of giving and created a "friendly" bidding war, all in support of St. Jude Children's Research Hospital in Denver. One employee was working to raise funds for Denver's first annual 5K walk event held in November in support of St. Jude. The result was extremely positive, helping propel St. Jude's goal of $40K to $42K.
In addition to being involved in the race, CliIntel is also involved in the Children's Burn Camp every year. The company's CEO, Richard Batenburg was invited to attend the event one year and was moved to make a difference by attending yearly. They are also involved in the Cancer League of Colorado's 'Over the Edge' program which was brought to the company's attention through another executive on staff.
"Giving locally is part of our company's culture," commented David R. Meyer, CliIntel's Chief Operating Officer. "When companies allow their employees' passion to fuel the outreach efforts, it's a win-win."
"I'm inspired by stories like these," said SBALoansToday.com's Clanton, "because regardless of company size, there are countless ways to give back that truly make a difference. Congratulations to CliIntel for making such a positive impact in our community!"
SBALoansToday.com is accepting business success stories, inspirational stories of businesses and people going out of their way to help others, or innovative ideas that entrepreneurs have nurtured from a thought to a real business. Email them to Success(at)SBALoansToday(dot)com for consideration. Read the complete story about CliIntel giving back.
About Small Business Funding Group
Small Business Funding Group owns and operates SBALoansToday.com, the authority on small business loans, and SBABizBanks.com. They are Small Business Administration (SBA) Lender Service Provider (LSP) under contract with lender banks that make up their national network of Certified SBABizBanks Lenders™. The company helps businesses by navigating the small business loan process through one loan application that leads to access with banks ready to fund the SBA loan. The company is headquartered in Denver, Colorado with offices at 17th and California, and may be reached at 1-855-SBA-4-BIZ (1-855-722-4249) or by visiting http://www.SBALoansToday.com.
About CliIntel
CliIntel (formerly BATMANN Analytics) delivers business intelligence methodologies and software that help companies in cable, telecommunications, retail and utilities verticals identify and execute improvements in operations, customer care, supply chain and marketing. CliIntel's proprietary engineering methodology, INSIGHT™ helps companies recognize and implement improvements that positively influence every aspect of their business. IGNITE™ is CliIntel's business intelligence solution, which allows businesses to drive strategic initiatives and precisely measure impact. The company is headquartered in Denver, Colorado. For more information about CliIntel, visit http://www.cliintel.com.