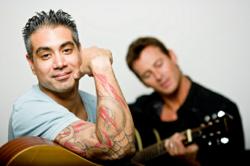 "From your first lesson, I will have you playing. And, I will inspire you to keep on playing. The guitar is not an easy instrument to play; but if you aspire to be an accomplished player; I can get you there."
Fort Lauderdale, FL (PRWEB) December 18, 2012
Dyce's guitar lessons make a great Christmas or holiday gift. Beginners will gain valuable direction, feedback and encouragement that only a professional like Dyce can provide. They will make progress much faster than they would on their own. Similarly, more advanced players will be benefit from being challenged—and will find that Dyce will help them better-connect their musical ideas.
The gift of guitar lessons with a qualified pro is a truly unique idea—for Christmas, the holidays, or anytime. The recipient will enjoy these exciting, informative lessons for months to come, each time he picks up his or her instrument. Dyce's Fort Lauderdale guitar lessons are provided at his state-of the-art studio in Fort Lauderdale, convenient to Miami, Weston and Fort Lauderdale.
Dyce Kimura is a premier musician, and a top provider of Fort Lauderdale electic guitar lessons as well as acoustic guitar lessons. Both adults and kids love his teaching methods. He plays all the great classics that adults grew up with—plus all the tunes that kids are jamming on their iPods, too.
Meanwhile, Dyce's action-packed lessons get aspiring students learning real songs in no time—all while teaching them music theory and scales that connects the music to relatable, practical theory. Anytime of the year, it's a hands-on way of learning the instrument that gets results. And this time of year, it's one of the best Christmas or holiday gifts that music-lovers can give.
Dyce's career has been taking off. Besides offering local one-on-one lessons, he has expanded to teaching Skype Blues guitar lessons online as well. These skype lessons are designed to slice thru all the confusion that comes with approaching the blues guitar. Dyce's warm, personable teaching provides aspiring guitarists with all the tools they need to have fun and start jamming right away with songs that they want to play—all while learning the fundamentals of guitar and blues, the right way.
For more information on giving the gift of Fort Lauderdale guitar lessons contact Dyce at Dyce (at) dycekimura (dot) com today.