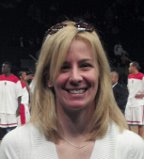 (PRWEB) December 07, 2012
Ed Randall, the Founder and CEO of Ed Randall's Fans for the Cure (http://www.fans4thecure.org), announces the appointment of Kelly Rodman as the Director of Minor League Operations for its baseball subsidiary, Bat for the Cure.
In her new role, Kelly will serve as the point person for the charity's Baseball Road Trip through Minor League Baseball, which promotes the twin gospels of prostate cancer awareness and the life-saving value of early detection. In its sixth season in 2012, the charity visited 166 ballparks from coast-to-coast in what has become the most extensive healthcare initiative in the history of Minor League Baseball.
A resident of Connecticut, Kelly attended Eastern Connecticut State University where she studied physical education and sports management. She later played four years of Women's Fastpitch Softball and ten years in the Women's Independent League Baseball in Boston. Additionally, Kelly played the outfield for the Lady Spirit All-Star team that traveled to Japan, Australia, Canada and the Dominican Republic. During this time, she also served as an outfield and baserunning coach at Central Connecticut State University. Kelly has also assisted the Colorado Rockies operations staff during spring training and serves in athlete relations for Phiten USA.
Ed Randall, Founder and Chair, said, "We welcome Kelly to our team. Her vast background in the baseball will be a tremendous asset to our ever-growing organization. In her new role, she will work studiously with the ballclubs who so generously open their homes to us and organize the countless volunteers who supervise our tables."
Ed Randall's Fans for the Cure is an Official Homegrown Charitable Partner of Minor League Baseball
For Immediate Release
Contact Jim Puzzo
908 232 2811
jimpuzzo(at)live(dot)com