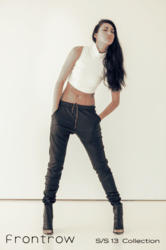 Atlanta, GA (PRWEB) December 07, 2012
Maryland native and FRONTROW creator, Shateria Moragne-EL, will debut her autumn/winter collection in the 2013 New York Fashion Week show sponsored by Elle.com and Style 360 on Feb 12, 2013. The story behind FRONTROW is one stemmed from the fashion industry. The hierarchy of the fashion world operates around one notion - making the cut. Meaning, are you the "In crowd", "Out crowd", A-list, B-list, the "Uninhibited" or … the coveted "Front Row"? Knowing a thing or two about "front row life", she decided to create a line that would make her consumers feel the same way.
FRONTROW is an innovative luxe brand that represents front-of-the-line privilege. The clothing is meant for fashion lovers and leaders – the confident, the gracious and the faithful. Shateria Moragne-EL has worked as a personal stylist and consultant, providing creative direction on a variety of projects, look books and catalogues. We caught a glimpse of Moragne-EL's designs on WEtv sported by Tamar Braxton and has since gained much notoriety. Her clothing and designs ensure comfort, confidence and appeal. FRONTROW represents unmatched style and freedom – inspiring its consumers to be seen on the scene and never settle for anything less than the FrontRow. Due to popular demand FRONTROW will have a digital pop up store on http://www.frontrowcouture.com on January 1, 2013.
Be sure to follow FRONTROW on Twitter @ifrontrow.