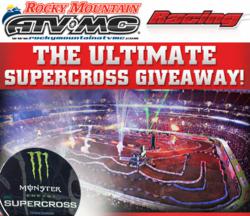 Rocky Mountain ATV/MC is proud to give back to the fans who love Supercross and support the off-road industry.
Payson, Utah (PRWEB) December 11, 2012
Rocky Mountain ATV/MC, renowned leader in providing off-road enthusiasts with the largest selection of off-road gear at the lowest prices, today announced the launch of their Ultimate Supercross Experience Contest which will award each winner up to five tickets to the AMA Supercross event of their choice. As an avid supporter of Supercross and premier supplier of riding gear to all types of riders, Rocky Mountain ATV/MC is thrilled to give Supercross fans the opportunity to win VIP passes to one of the AMA Supercross races scheduled in 2013.
The lucky winners will receive VIP tickets to the event, pit passes and free lunch and drinks at the Rocky Mountain ATV/MC Race Rig. Additionally, each winner and whomever they choose to join them, will meet the riders from the new Rocky Mountain ATV/MC Supercross Team, Landen Powell and Bracken Hall.
CEO and Founder of Rocky Mountain ATV/MC, Dan Thomas is looking forward to presenting the lucky winners with this once-in-a-lifetime opportunity. He says, "Rocky Mountain is proud to bring more exposure to the world of Supercross and to give back to the fans that love and support the sport as well as the off-road industry, in general."
Rocky Mountain ATV/MC has continually supported Supercross events while increasing their on-track presence throughout the years. In 2013 they will take their visibility to a whole new level by sponsoring the new Rocky Mountain ATV/MC Supercross Team, advertising on the jumbotron at select events and giving Supercross fans across the nation the chance to receive VIP treatment at one of the 2013 Supercross events.
About Rocky Mountain ATV/MC®
For over 28 years, Rocky Mountain ATV/MC has been the trusted source for off-road enthusiasts who demand high quality riding gear, low prices and unmatched customer service. Rocky Mountain doesn't just satisfy their customer's expectations, they exceed them with values you won't find anywhere else like their frequent buyer program, fit guarantee apparel exchange, free 3-day shipping and price match guarantee. Rocky Mountain ATV/MC was established in 1985 by Dan Thomas, CEO and Founder in a small, one room warehouse in Utah. Dan's passion for the sport of off-roading and commitment to provide the highest quality products at the best prices has made Rocky Mountain the leading supplier of off-road gear. For more information, visit http://www.rockymountainatvmc.com. For media inquiries, contact Everett Hoffman at 1-800-336-5437 or everetth(at)rockymountainatv(dot)com.