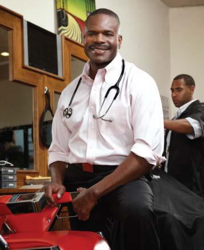 The number of diabetes-related amputations in the African American and Latino communities is deplorable! Something has to be done about this tragedy.
Beverly Hills, CA (PRWEB) December 07, 2012
It's estimated that as many as 75% of all diabetes-related amputations are preventable. This is good especially good news; with obesity and diabetes on the rise in the U.S., amputation among high-risk populations is a looming public health risk. In particular, the amputation rate among the African-American and Latino communities is much higher than in other populations.
The mission of The Releford Foot and Ankle Institute is to help high-risk populations and effectively reduce diabetes-related amputations in Los Angeles County. Founder Dr. Bill Releford has released the following tips to help patients with diabetes prevent unnecessary amputations:
Dr. Releford's 10 Steps to Avoid Amputation
1. Do not smoke
2. Exercise daily
3. Control your cholesterol
4. Dry in between all toes after bathing
5. Always control your diabetes and blood pressure
6. Always wear shoes made from natural sources such as calfskin or soft leathers
7. Never pull or pick skin from your feet
8. Eat at least five colors of fruits and vegetables every day
9. Never cut toenails or trim calluses if you have diabetes or poor circulation. See a podiatrist for routine foot care.
10. Never go barefoot if you have diabetes…even at home
Says Dr. Releford, "Simply by taking control of their health, managing their disease, and paying careful attention to their feet, patients with diabetes can significantly reduce the risk of amputation. By distributing this list, I hope to remind anyone with diabetes that though amputation is a very real threat, it is one they can most likely avoid."
About Dr. Bill J. Releford, D.P.M.
Dr. Bill J. Releford, D.P.M., a graduate of the Temple School of Podiatric Medicine in Philadelphia, began his practice in 1990 and established the Diabetic Foot Institute, a facility dedicated exclusively to the reduction of diabetes-related amputations in high-risk populations. Dr. Releford is recognized both domestically and internationally as a leader in the field of diabetic limb preservation and wound care, and recently received prestigious awards from the Association of Black Cardiologists and the Regional Black Chamber of Commerce for his contributions to public health. Dr. Releford uses platelet-rich plasma therapy to treat diabetic neuropathy, foot injuries, and chronic non-healing wounds.
Dr. Releford is an assistant professor at Charles R. Drew University and lectures worldwide about the latest techniques in limb salvage and community-based outreach. He authored the book Five Colors A Day to Better Health, and has been featured on NBC Nightly News with Brian Williams, ABC's The View, and in The Washington Post, Newsweek, and The Los Angeles Times.
About The Releford Foot and Ankle Institute
The Releford Foot & Ankle Institute's mission is to effectively decrease the diabetes-related amputation rate in Los Angeles and surrounding communities by providing comprehensive wound care and limb salvage services.
Dr. Releford's community outreach and health-care advocacy efforts are facilitated through the Diabetic Amputation Prevention Foundation (DAP), a non-profit organization he founded in 2001. Its mission is to educate at-risk populations to better understand diabetes and its complications through community-based programs.
.
Dr. Releford and the DAP Foundation have been recognized for the success of the Black Barbershop Health Outreach Program. Since its inception in December 2007, the program has screened over 30,000 men for diabetes and hypertension in more than 650 black-owned barbershops in over 42 cities.