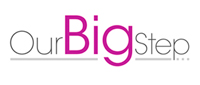 Packed with advice for getting marriage off to a good start.
Fort Lee, NJ (PRWEB) December 07, 2012
Marble Media LLC has announced the launch of OurBigStep.com, a new online blog site dedicated to helping newlyweds begin married life with some practical advice on a variety of issues that married couples face.
So many young couples return from the honeymoon and have no idea where to start "being married."
OurBigStep.com reports on all the relevant topics facing married couples today, from budgets to babies and beyond. The aim is to help make the early months and years of marriage a little less of a guessing game. Julie, the OurBigStep.com in-house expert, provides advice and answers questions anonymously for young couples looking for answers to their many questions.
The site, which is easily accessed from a smartphone or tablet, offers a "Dear Julie" page for answers to the most pressing questions newlyweds and almost-weds are faced with. The "Getting Married" page offers a wealth of tips and options for planning the wedding, followed by the self-explanatory "Having Kids" and "Step by Step Saving" pages.
For instance, married couples often consolidate their checking, savings, and credit card accounts after marriage. OurBigStep.com offers guidelines and guidance for a smooth transition during what can be a touchy process. Newlyweds can find insight for responding to the "baby question" that always comes up the moment a couple returns home from their honeymoon, or advice on purchasing a foreclosed home at a great price.
Couples still planning their trip to the altar can benefit from the wealth of experience and knowledge available on the "Getting Married" page, with tips on everything from deciding whether or not to have a wedding website (the latest trend), to choosing a unique reception menu that will please every guest.
OurBigStep.com is a great place to find answers to many of the questions that arise in the process of planning a wedding and beginning life as a married couple. For more information, visit the OurBigStep.com website or email info(at)ourbigstep(dot)com.
About Marble Media LLC:
Marble Media LLC is a creator of high-quality, content-rich blog sites that provide expansive coverage of relevant information to readers who make up a wide range of demographics. The Marble Media LLC team of expert writers covers a wide range of specialties including travel, food, health, fitness, social media, marriage, parenting, technology, weight loss, fashion and much more.
For more information on Marble Media LLC's offerings and advertising opportunities, visit the MarbleMediaLLC.com website, or email sales(at)marblemedia(dot)com.
###