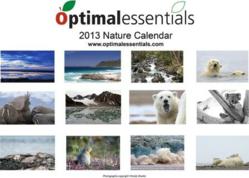 Adelaide, South Australia (PRWEB) December 14, 2012
To celebrate another fantastic year at Phil Sheldon's Optimal Essentials, our managing director and award winning photographer Wendy Broekx has created a stunning 2013 limited edition calendar with shots from many far corners of the planet.
Nationally exhibited and winner of many awards, Wendy is passionate about the world through her camera lens with a particular love and interest in all wildlife, natural environments and pets.
Wendy has had a number of successful exhibitions, won awards and her 'Bison' image was awarded "Merit of Excellence Award" in the International Black & White Spider Awards.
As a special offer Optimal Essentials would like to offer the chance to receive a limited edition 2013 Nature Calendar at no extra cost *
Conditions apply. Check us out on Facebook, Twitter or our website for further details.