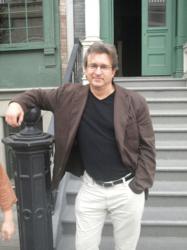 A mytagogue, a carrytale and a thaumaturge, Cousineau makes us Argus-eyed to the ubuntu of the aprocryphal and Gemutlichkeit it provides, and if you don't know what I'm talking about, then you definitely need this book.
—Lemony Snicket
(PRWEB) December 07, 2012
Internationally renowned wordcatcher, Phil Cousineau, lights up the airwaves with a delightful discussion of the wild and wonderful world of words. Watch him discuss The Spiritual Quest on The Global Spirit on PBS December 8th and listen to him on Michael Krasny's KQED Forum on NPR December 10th. The Portland Book Review recently reviewed Phil's new book, The Painted Word, and Phil, himself, appeared on the cover of OM Times. Join Phil in San Francisco on December 10th at Book Passage and hear a reading from The Painted Word.
The Painted Word: A Treasure Chest of Remarkable Words and Their Origins
Cousineau, linguistic detective and dictionary delver, is back with a priceless treasury of word stories and literary obscura that will enchant any lover of language. The words themselves range from the commonplace, such as biscuit, a twice-baked cake for Roman soldiers, to loanwords like chaparral, courtesy of Basque shepherds who came to the American West; from word-reversals such as silly, which evolved from "holy" to "goofy" in a mere thousand years, and to words well worthy of revival, such as carrytale, a wandering storyteller. Cousineau's journey through the history and mystery of words will enlighten as it delights.
Wordcatcher: An Odyssey Into the World of Weird and Wonderful Words
Who knew that the great country of Canada is named for a mistake? How about "bedswerver," the best Elizabethan insult to hurl at a cheating boyfriend? Author Phil Cousineau explores the obscure territory of word origins with great erudition and endearing curiosity. The English poet W. H. Auden was once asked to teach a poetry class for 20 students. Two hundred applied to study with him. When asked how he chose his students, he said he picked the ones who actually loved words. So too, with this book—it takes a special wordcatcher to create a treasure chest of remarkable words and their origins, and any word lover will relish the stories that Cousineau has discovered.
PHIL COUSINEAU is an award-winning writer and filmmaker, teacher and editor, lecturer and travel leader, storyteller and TV host. His fascination with the art, literature, and history of culture has taken him from Michigan to Marrakesh, Iceland to the Amazon, in a worldwide search for what the ancients called the "soul of the world." With more than 25 books and 15 scriptwriting credits to his name, the "omnipresent influence of myth in modern life" is a thread that runs through all of his work.